Note: Goalwise has been acquired by Niyo Money and is rebranded to Niyo Money.
Note: If you plan to become an NRI in the future, NIYO Money is not a good platform. As they don't support NRI accounts.
Every one of us wants to create wealth, and most of us understand that the foundation of creating wealth is smart investing.
This article is for those who wish to make wealth and at the same time achieve every short-term and long-term goals.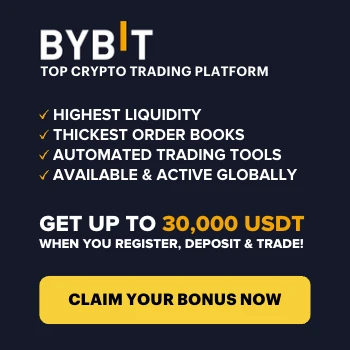 Mutual fund investments and strict discipline are the best way to achieve your financial goals. As the Indian market is supposed to grow significantly over a period of 30 years, money invested in the right instrument can grow your investment significantly.
A lot of us make mistake by keeping money in the bank account, using fixed deposits, and sometimes falling prey to investment advice given by our bankers.
Robo advisor services is an answer to this, it gives you complete control and transparency regarding your investment. Nonetheless, most of the Robo advisory services let you save 1% every year as the investment is made in the commission-free instrument.
My search for such services landed me on Niyomoney and after studying it carefully, and understanding its pros and cons, It is something worth knowing by every individual.
In this review post, I have covered every important aspect of Goalwise including Pros and cons, getting started and also shared a few Goalwise alternatives.
You can use this guide to start investing today or it could be an integral part of your research.
So, without further delay, let's get on and learn as much as you could about Goalwise services today.
What is Nioyomoney?
Goalwise is a direct mutual-fund investment service that takes an approach of Goal-based financial planning.
Goal-based wealth management approach helps you set your short term and long term goals and achieve them as the timely completion of goal arrives. I have talked about this in great depth in the upcoming section of the guide. However, you should read this guide on Investopedia to learn more about the benefits of Goal-based financial planning.
With Goalwise, you can set up your life goals within minutes and start investing. The feature like the Glide path, rebalancing, and mutual fund selection helps you to not worry about making a bad investment decision.
Let's understand why you should be using Goalwise by discussing it's benefits.
Benefits of Niyomoney:
Direct mutual fund investment:
The mutual fund investment you do with the help of a broker or financial advisor includes an extra 1% which is paid to the broker/financial advisor. Such mutual fund plans are called regular plans. You should read about the expense ratio to learn how your brokers/commission agent and distributor make money when you invest in mutual funds.
With Goalwise, you will be investing only in direct mutual fund plans (Commission free plans) and you will be earning an extra 1% on your overall investment.
Alpha generation-focused Mutual fund selection:
One of the challenges of mutual fund investing is to find the right mutual funds to invest in. A lot of us rellies on our friends, network, and information on the web to find the right mutual fund.
However, the bigger challenge than selection is to know when to get out of a particular mutual fund.
Goalwise solves this problem by using data to suggest mutual funds. It also helps you to move funds out automatically when a particular fund is not performing well or the future looks bleak. You can read about Goalwise mutual fund selection criteria.
Goal-based investing:
Goal-based investing is one of the smartest ways to grow wealth and achieve all your life goals.
A lot of the first-time users are not aware of Goal-based investing, and they focus only on growing their money. The usual say is: If I grow my money, I can achieve all my goals.
However, when you tie up your investment with a goal, you are more likely to be happier. This is something I have learned while paying for a financial advisor.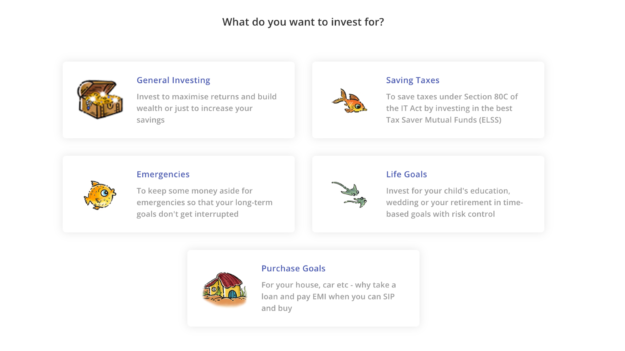 Niyomoney makes goal-based investing stress-free and ensures your investment is done in the right instrument based on your goals. Read about the glide path in the further section to learn more about it.
Glide path strategy:
The glide path formula is a methodology by which asset allocation is achieved as your portfolio changes every time.
Let's understand this with a simple example:
One of your goals is to have 40 lakhs for your child's education in the next 6 years. Based on your risk profile, your initial investment will be in 60% equity and 40% in debt instruments.
All your SIP will be done to get exposure in 60:40% ratio in equity:debt market.
As you reach nearer to your goal, the glide path formula will ensure your investment moves from Equity (Riskier) to debt (less risky).
By the final year, your exposure on Equity:Debt would be 0:100%.
This is to ensure your investment is safe from market volatility and you receive your goal amount, despite the market going down.
Niyomoney automates this process and makes it easier for you to maintain asset allocation based on your goal time frame.
You can read more about Glide path in the below guides:
Invest SIP or Lumpsum:
With Niyomoney, you can automate payments using the NACH form. The best part is, it hardly takes 10-15 minutes to set it up and after that your SIP is automated.
Similarly, you can anytime invest a lumpsum amount or use the STP feature.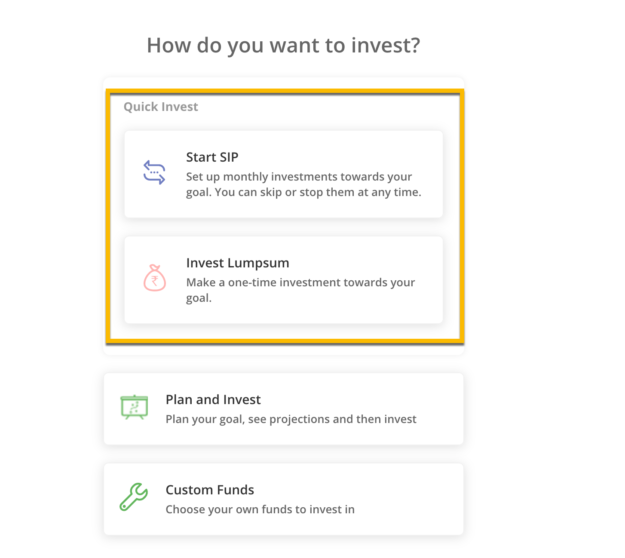 You can easily do a lump sum by clicking on invest in any of the goals that you want to make a lump sum in. After invest, it will ask you to do SIP or lumpsum – you can choose the latter.
STP feature (On-demand)
When investing in lumpsum, either the market has to be really low or you will risk buying at high NAV, The solution to this is using the STP feature "Systematic Transfer Plan".
This feature is not enabled by default but can be accommodated for anyone looking for it. Since this feature is not enabled by default, I reached out to Niyomoney support and asked: "Do Niyomoney offer STP feature"?
Here is what they answered
"Yes, we do but it's not yet in the product as not many people use it. If you want you can email us the particulars of the STP like from which fund to which fund you'd like to move the funds, the goal, the time duration, and date of STP and we will be happy to set it up at our end."
Free and one-time setup:
The best part about Niyomoney apart from being free, is, it requires only one-time setup. It is a complete set it and forget it kind of system.
You can, of course, revisit anytime and make changes if required. However, the best thing to do is to set it up once (See the guide below for setting up Niyomoney) and keep investing.
Niyomoney is completely free to use and if you are wondering how they are making money, I have answered that as well in the upcoming section of this Niyomoney review guide.
Track all mutual fund investment:
With Niyomoney, you can track all external mutual fund investments from one place. This feature is free to use for anyone and even if you don't plan to use Niyomoney for now, you can use this feature.
Read my earlier tutorial on: How to track all external mutual fund investment from a single dashboard
Switch from Regular fund to direct fund:
With Niyomoney, you could track all your external investments and see which all regular funds you have invested in. You also get the option to switch from these Regular funds to direct funds. I have talked about this in-depth in my earlier guide on How to switch from regular funds to direct funds.
Move all mutual fund investment to Niyomoney:
So you decided to start using Niyomoney and also move all your funds from other brokers/distributor to Niyomoney platform, you could do that with just a few clicks. This is another aspect of "Track external investment" and it's worth knowing this feature.
If you ever feel you are stuck with your existing mutual fund advisor, a feature like this makes it easier for anyone to take control of their funds.
Family dashboard: manage your family investment
If you ever wanted to manage funds for your wife/husband/brother/sister/son/daughter/parents or any other, you could do this with the family dashboard feature of Goalwise.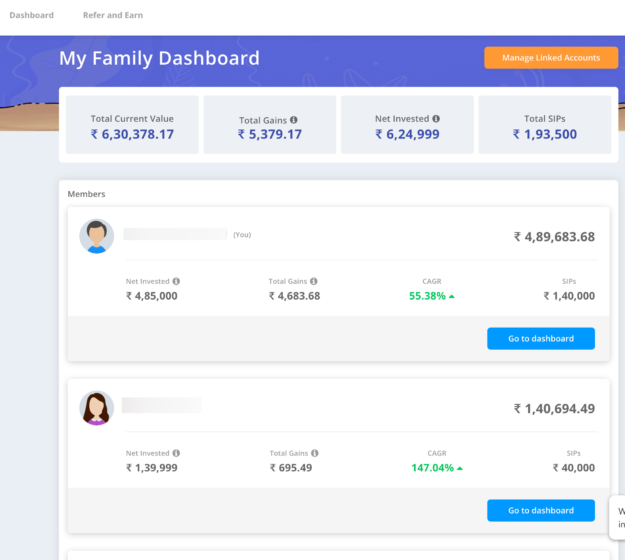 Once you set up an account for your family member, you can give the account access to your Niyomoney account. From here on, you could start managing your account.
Tax harvesting:
Niyomoney supports tax loss harvesting, and this feature alone helps you in saving taxes which adds on to your wealth creation. You can read more about tax harvesting and how it helps you in saving taxes here.
Goalwise Mobile app:
Niyomoney offers a full-fledged mobile app that offers all the bells and whistles you can expect.
Smart switching:
As I mentioned above, Niyomoney uses the glide path formula to rebalance. At the same time, their smart switching helps in avoiding loss in terms of exit load. The switching considers the exit load and switches only exit loads free fund.
Smart switching is also available for those funds which you are moving from regular to direct funds.
---
There are more features and benefits of using Niyomoney, but the above are a few which would help you to decide to use Niyomoney or not to use Niyomoney.
In the further section, I have also shared the limitations and cons of Niyomoney which is equally important for you to know before start investing with Niyomoney.
Before that,
let's learn how to use Niyomoney
How to use Niyomoney – Beginner guide
The very first thing you would like to do is set up a goal plan for yourself. Here you need a few things such as:
Your Goal name
Your goal target year
Your Goal amount (In today's amount)
You can do that directly on Niyomoney or you can do that on an excel sheet. I prefer using an excel sheet first and then move everything to Goalwise:
Here is a sample sheet: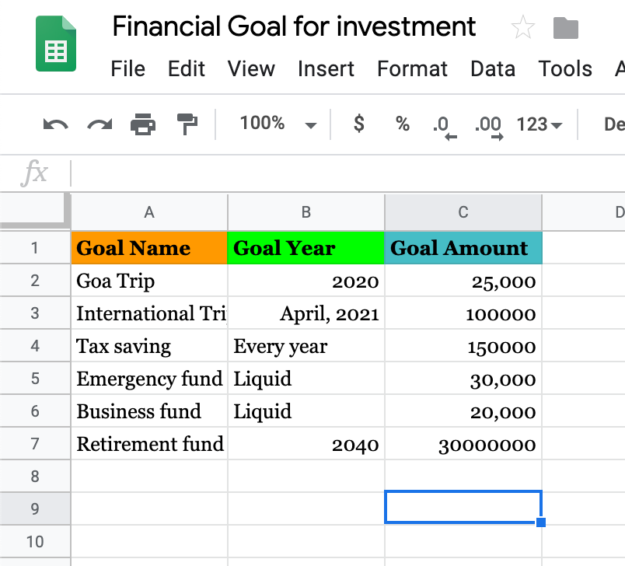 Few things to note about goal setting:
The goal amount is added based on how much it would cost today to make the goal happen. When setting up the goal on Goalwise, we will add inflation to set the actual goal value.
Be realistic with your goals and feel free to add more goals if you like.

Here are a few goals ideas for your inspiration:
Money for car
Luxury international trip
New camera
Solitaire ring for your partner
Vacation for your parents
Charity money
Child education
Child wedding
Your 25th grand anniversary
Retirement fund
Like this, you can set the goals that resonate with you. Take 20-25 minutes' time and try to get this as right as possible. This will be your guiding principles in your financial journey.
Now, once this exercise is done, simply head over to Goalwise.com and create an account.
Complete the e-KYC and once your account is setup ( It is instant and take only 5 minutes or so), head over to dashboard of Goalwise.
Make sure to take a risk profile test, and track external investments. You can also set-up auto-debit now or later after setting up goals.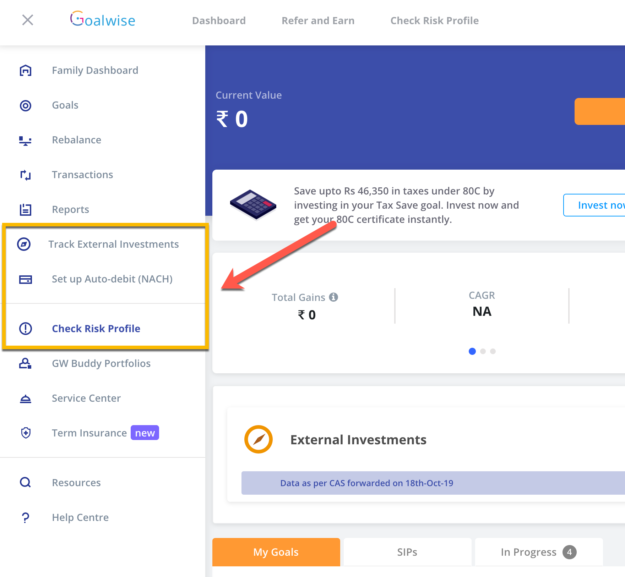 I highly recommend you check the risk profile as it will help you understand how much risk are you ready to take. In the future, you can again take the risk profile test to access your risk profile.
Once you are done with the basic setup, now it's time to set-up the goals.
Head over to Goalwise dashboard:
Click on add a goal: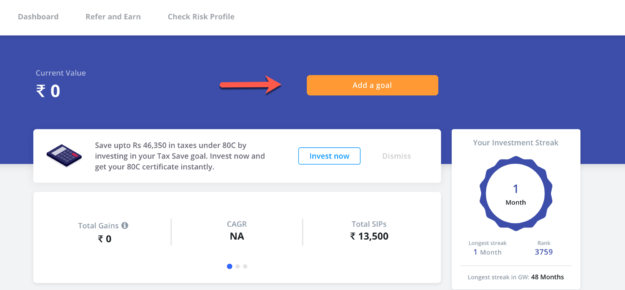 Here you will be given multiple options in terms of investment. Every option has sub-options.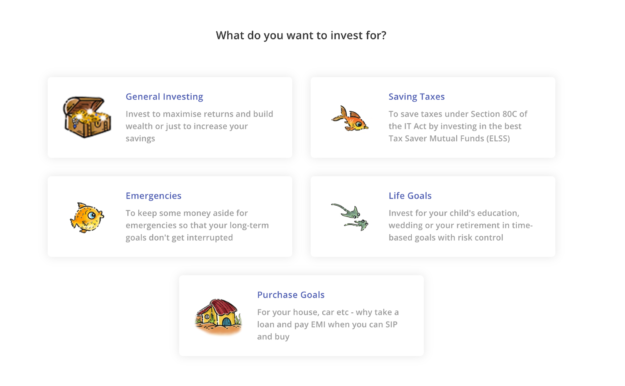 For the sake of this tutorial, we will select life goals > Retirement plan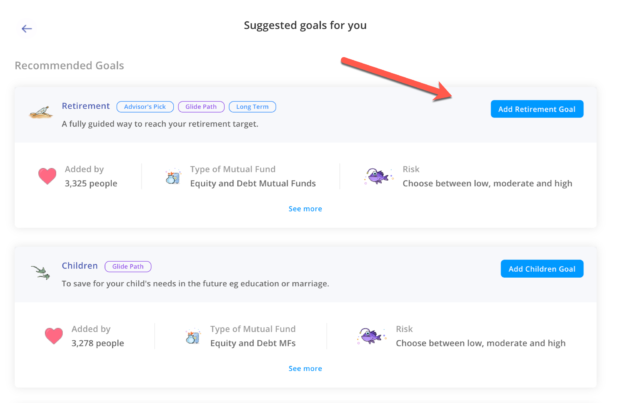 Click on "Add investment goal" and on the next page select start investing.
Now, on the next page, you get multiple options such as start a SIP, lumpsum investment, plan and invest and custom funds. The custom funds option is for the experienced investor who would like to pick their own mutual funds.
If you want to simplify, you can select start SIP and simply follow the instructions to get started. However, you can also take a better route and select "Plan and invest".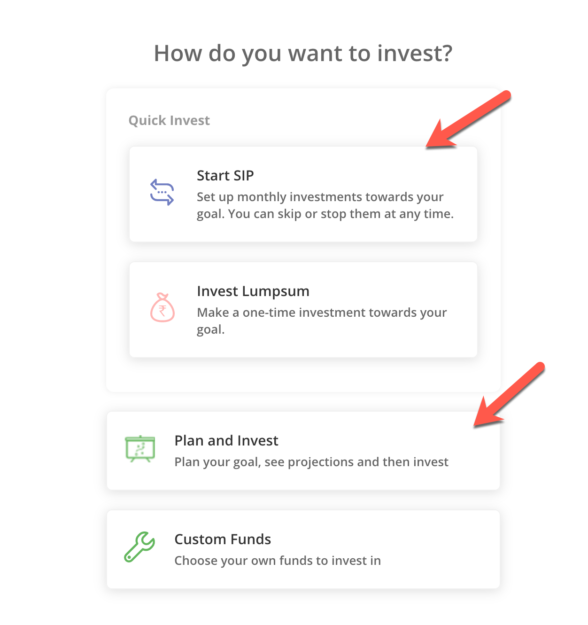 Lets select plan and invest.
On the next page answer the simple question:
"in how many years do you want to retire?"
Use the excel sheet we created above to see your retirement goal.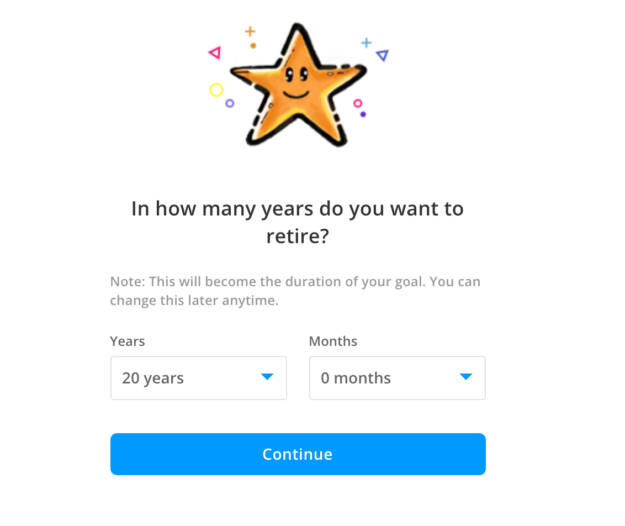 We will stick to 20 years as this was the goal that we decided in the above example.
Now, on the next stage enter your target monthly income. (This is the income you are ok with if you retire now).
Do select the adjust for inflation to get the correct amount in the goal target year. In this example, it is 20 years.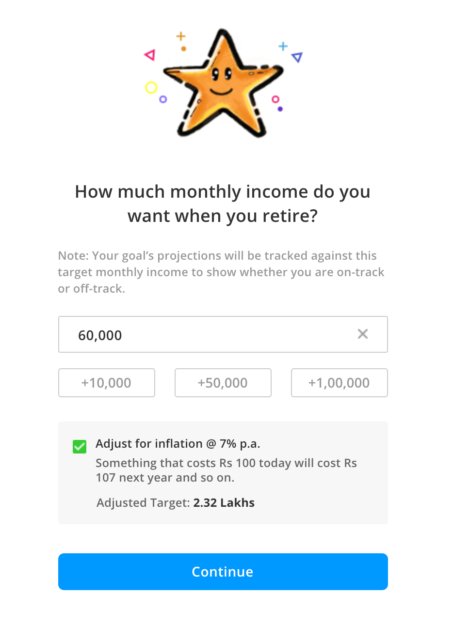 Click on continue and on the next page (could be overwhelming) for the first time.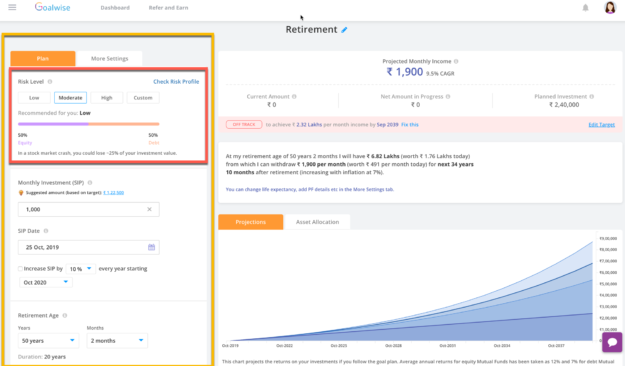 You can adjust your risk profile if you like. For example, I would change it to moderate since the horizon is really long and it is better to stay invested in the Equity market. However, you can stick to your default risk profile which is what professionals recommend.
When in doubt, you can click on the chat icon on the right-hand side and ask questions to the support team to help you. You will be surprised at the level of help the Niyomoney support team offers.
Here the system will suggest monthly SIP for you and you can also click on "more settings" to add your other investment done for retirement planning such as provident fund and your life expectancy.
Click on save and invest.
On the next page, the system will automatically suggest funds to invest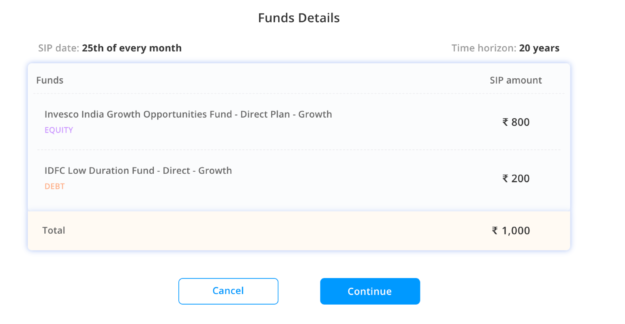 Click on continue and review the SIP details. You can anytime change the SIP date if you like. In my case, I have already set up auto-debit (NACH), so I see the below option.
In your case, the options may be different that you should be able to follow without any worry.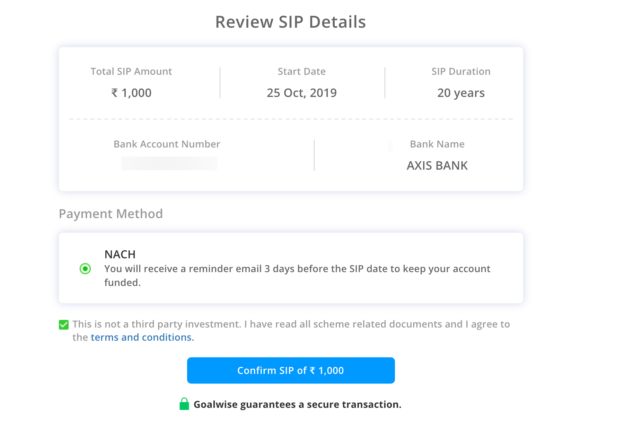 Click on "Confirm SIP of 1000" and your retirement plan investment is done.
Sounds easy? Isn't it?
Well, it's because the Niyomoney has made the investment easy.
Similarly, you can set up a SIP (Systematic investment plan) for all your goals.
Do give time and explore the the Niyomoney dashboard to learn what else could be done. They also have a blog which is full of informative articles for beginner investors.
---
Now, it's time to look at the pros and cons of Mutual fund investments:
Pros and cons of the Niyomoney:
Pros:
Goal-based investing
Automatic hand-picked mutual funds
Tax saving equity investment
Friendly and knowledgable customer support
Beginner-friendly and great user interface
Direct mutual funds
Completely free
Tax harvesting tool to save taxes
Glide path for rebalancing
Set up and forget kind of system
Cons of Goalwise:
No face to face meeting: Since you are taking care of your investment and there will be no human interaction apart from chat support. Niyomoney should consider adding a forum (Via Facebook or using Discourse) that could be really helpful for existing and new investors.
No Behaviour management: Behavior finance is an important aspect of investment and this is something that is lacking in all Robo-advisory platforms. A financial advisor helps you to control your behavior in bad times. This is one thing that is missing and if a beginner loses his portfolio significantly in a short span after investing, they may never invest again. This is a missing piece that could be solved by case studies and educational material by the Niyomoney team. Read more about Behaviour finance here.
No NRI Investment: If in future you become an NRI, you won't be able to use Niyomoney to invest new funds or even change your existing investment to NRI status which is a problem. If you plan to become an NRI, you should avoid using Niyomoney
Here are a few FAQ's related to Niyomoney. This also includes answers to many questions that I got directly from the Goalwise support team. I hope this helps you to understand more about Goalwise and. answers some of. the basic and important questions related to the Goalwise platform.
Should you be using Goalwise?
I believe Niyomoney has great potential and it is bridging the gap between mutual fund investment and general investor.
Why Goalwise is free?
Since Goalwise offers direct mutual funds, why is Goalwise free? Well, they do make money by offering financial advising services. This is an optional service that anyone can take and cost about Rs. 30,000 one time.

When rebalancing happens, do Goalwise switch considering the exit load or everything is switched?:

Only exit load free and STCG free units are switched upon your approval.

If I have to add Lumpsum to any goal, how this will be managed? (Will it be added to equity or debt): 

This will depend on the amount but if the amount can cover all recommended funds in the goal, it will split the amount in the recommended equity and debt funds according to the risk profile. You can change this ratio if you like by customising the recommendations.
If I have to invest in a mutual fund which is not tied up with a gaol what do I do?

You can create a generic goal called Wealth and invest. It is not a specific goal but a general investing goal and you can keep adding such investments there.
NACH (auto-debit) payment: How can you increase limit?

You can ask the support with the limit you'd like to increase it to and we will send you the updated NACH mandate. You can print, sign, scan and send it at [email protected]
Let's say if I set a goal of 20 lakh after 3 years, would the system automatically changes the portion of liquid:Equity:Debt as the time approaches?

If you choose Wealth then there is no glide path (this movement from equity to debt) as it's a generic goal. Likewise, with Smarter Savings and Emergency goal – these only have liquid/debt funds so there is no switching from debt to equity. Tax Save also doesn't have this as all ELSS funds are only equity. But for all other goals, there is a glide path and if you are on the web you will be able to see the same in a graph in the goal plan (Asset allocation tab). It will show how this switch will happen over the years. This switching will happen during rebalancing.
I see the platform recommends funds… Do you recommend funds in Medium cap and Small-cap or only blue-chip?

So, it depends on your risk profile and the type of goal actually
For low-risk investors, the recommendations for this year include mostly large-cap funds and an index fund
for moderate and high-risk investors, we are recommending multi-cap funds (asset allocation differs as per risk and duration)
the reason behind recommending multi-cap over small and mid-cap separately are:
a) Risk is determined more by the equity-debt asset allocation than the type of equity or debt funds you are investing in. Under high-risk selection, we have an up to 100% allocation to equity which makes it 'risky' enough.
b) Multicap funds already have 20-30% exposure to mid & small-cap stocks which is good enough even for high-risk profile investors. Also, in Multicap funds, if the fund managers sense more opportunity in mid & small-cap stocks, they can easily allocate more to them as they are not restricted to any specific market cap. Hence there is no need to add separate Mid & Small-cap funds.
c) Last but not least, over the last year we have observed that most investors who think they have a high-risk profile actually don't have one. They are prone to panicking at the slightest negative returns
So, it's better to let the expert decide as per us cause fund managers to have more insight and resources to take such decisions
What happens when I delete a goal which has investment done?:

You can only hide a goal that has any investments/transactions
to delete a goal, you will have to move the funds to a different goal, so the transactions can also be moved.
Goalwise is working on providing it to the users directly, as of now you can approach us and we can move it
How is rebalancing different than Glide path on Goalwise?

Glide path means de-risking your investments over time as your goal is nearer to being achieved. It's done through rebalancing. Rebalancing means helping you move from old funds to new and to the desired asset allocation. as per glide path if desired asset allocation changes, then rebalancing will take that into account

We reach out to you for rebalancing every 6 months, if you approve it, then we change it to our latest recommendations. you don't need to do anything manually. We only reach out to rebalance that part of the portfolio which is free of exit charges and STCG taxes
What about the report that CA needs for accounting?

We have a Tax save 80C report and a capital gains report that will have all the info your CA needs.

Tax gain harvesting on Goalwise

We do have tax gain harvesting inbuilt, so your redemptions rebalancing will take care of that. We won't know of your investments outside though.
Conclusion: Niyomoney review
Niyomoney is constantly evolving and has become a #1 product for direct mutual fund investment.
When many Goalwise alternatives are also offering direct mutual funds, Goalwise approach towards Goal-based planning and simplifying direct mutual fund investment has made it a clear winner.
In the future, I would love to see Goalwise offering options offered by Finpeg which programmatically decide when to move money from Equity to debt market and vice versa. This is a different category of product and I believe it could add significant value for Goalwise user.
In my opinion, Goalwise is a solid mutual fund investment platform.
Niyomoney alternatives:
There are a few Goalwise alternatives that you should be aware of. You should also keep an eye on what they offer and do a feature comparison if you like.
However, at the time of writing, I picked Goalwise after comparing all the features. In case if you find a better alternative to Goalwise, do share with us in the comment section below.
Also, I would love to hear your review and experience of using Goalwise. Do share with me and others by commenting below.