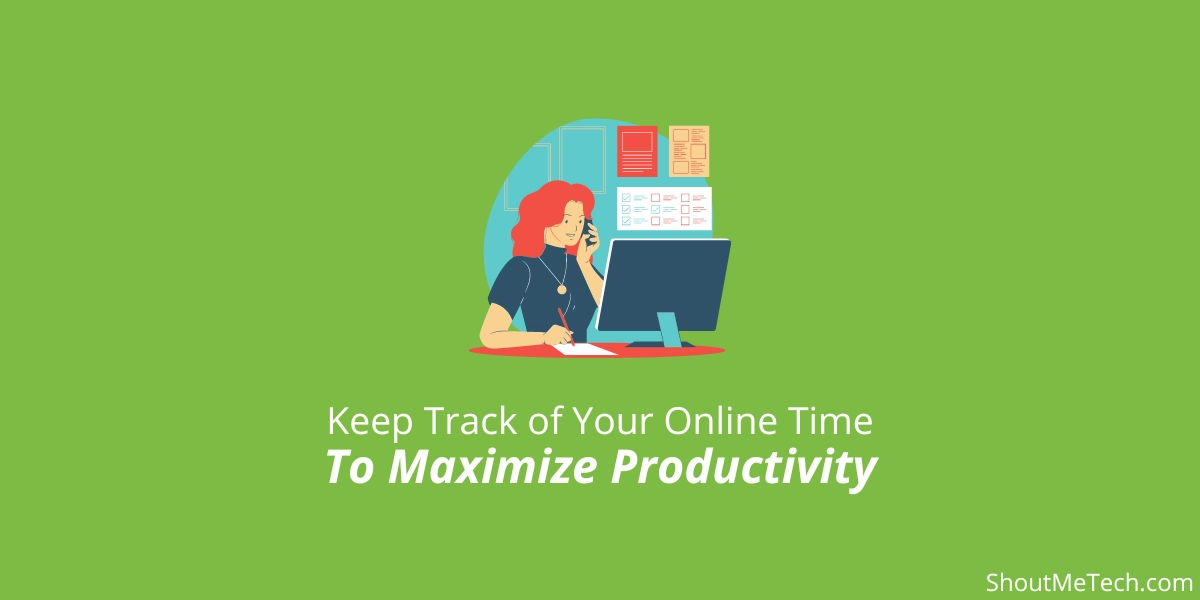 8760 Hours
That's the only time you will get in a year.
Out of which,
2920 hours will be spent sleeping (considering avg. sleeping time as 8 hours).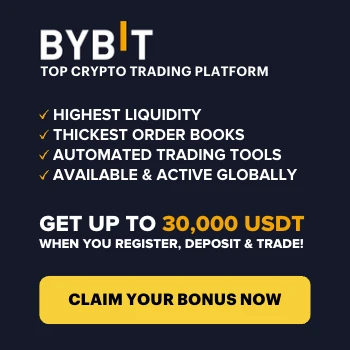 If you are like my friend, Veronica you would be sleeping 3640 hours every year on the bed as she loves hitting the snooze button.
Now, let's talk real stuff:
Traveling 🚙
Daily Chores 🛀
Family time 👪
Exercise (If this is your jam) 🏋️‍♂️
They take a considerable amount every day of your life. Let's count this like 5 hours an average (exclusive of holidays).
If you are a father or a mother, add additional 2-3 hours of a day taking care of your little one. 👶🏻
If you are a millennial, add another 2-3 hours for social media posting and Netflix. (I have been one) 😁
Considering all these scenarios and a lot of unaccountable factors,
we technically have not more than 8-9 hours every day to be productive.
However, this is not the case for a lot, at least not for me until I started tracking my time online.
I always consider myself as a productive guy but when I started using this time tracking tool called Rescuetime, I realized data is sometimes more powerful than intuition.
It was that innocent sip of coffee on a monsoon evening that manifested the idea of tracking my online time. I wanted to know where I spent most of my time online and does my time spend online align with my life goals.
I researched online to find these two cutting edge apps:
I was little apprehensive initially to let an app monitor my online activity (I'm paranoid about security), but after going through TOS of these apps, I put down my defenses and installed RescueTime on my mobile as well.
Another day and another app!
I knew the features of the app but I was not sure what all benefits I'm going to get, but I did want to undermine that beautiful innocent evening, I committed to my idea of using RescueTime for 3 months and see how it's going to make a difference in my life.
The challenge accepted!
After being a free customer for more than years and being a paid customer for more than a 4 months, I feel it's important for me to share and for you to know about this time-tracking app.
I always used a time-tracking app like Toogl when I used to freelance, consulting but this one (RescueTime) was different.
Here, I was letting an app track:
Which website do I browse?
Which app I use on my phone and for how much time?
Let it crunch the data to tell me how productive and how lazy I was.
As a Solopreneur, Entrepreneur and a full-time blogger (see how many hats I wore), I always believed in my intuition. It has helped me to win numerous awards, travel across the world and do things beyond my imagination.
All of it was about to change.
This the first time, I wanted to find a complete alignment of intuition + data and I upgraded my free RescueTime account to test it out.
Here, I'm sharing what RescueTime is, how this works and most important: how it helped me to maximize my productivity.
To use or not to use is a complete choice at the end, but knowing the benefits will help you understand the possibility.
Here we go..
Rescuetime Review: More than Just A Time-management Software
Time = Money
The day you will engrave this philosophy into your life, you will spend more time on meaningful stuff.
I learned this a long back and that's why I like to be a productivity hacker.
I like to look into things that I spent most of my time and find a way to minimize the time without affecting the end results.
This is how I learned the art of delegation.
This is why my mouse sensitivity pointer is highest.
Last year, I felt the need of tracking my time.
That is how I started using RescueTime more seriously. I was using this app for long, but not to its maximum potential.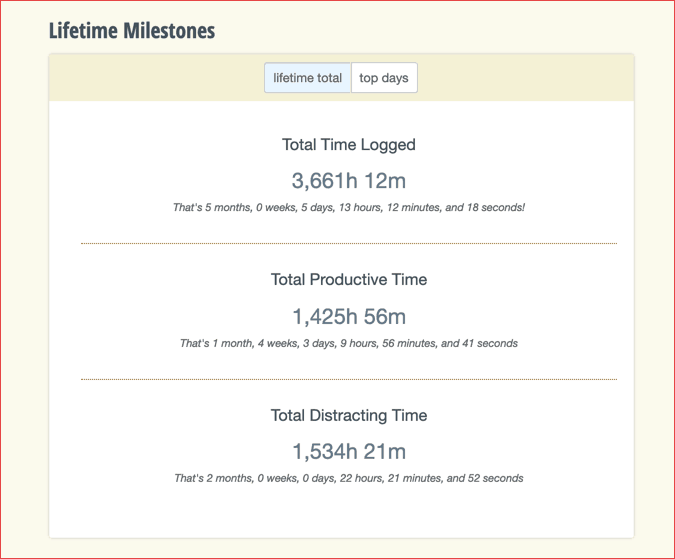 I had RescueTime installed on my laptop but not on my mobile, and that is why the data I was getting was not making sense.
At the same time, I also compared free vs. paid plan, and for a year it was costing about $72 and after comparing the features, I upgraded to the paid plan. You can start with the free plan and once you see the value, you can decide to upgrade to the paid plan.
This below chart will give you an idea of the difference between the free vs. paid plan of RescueTime.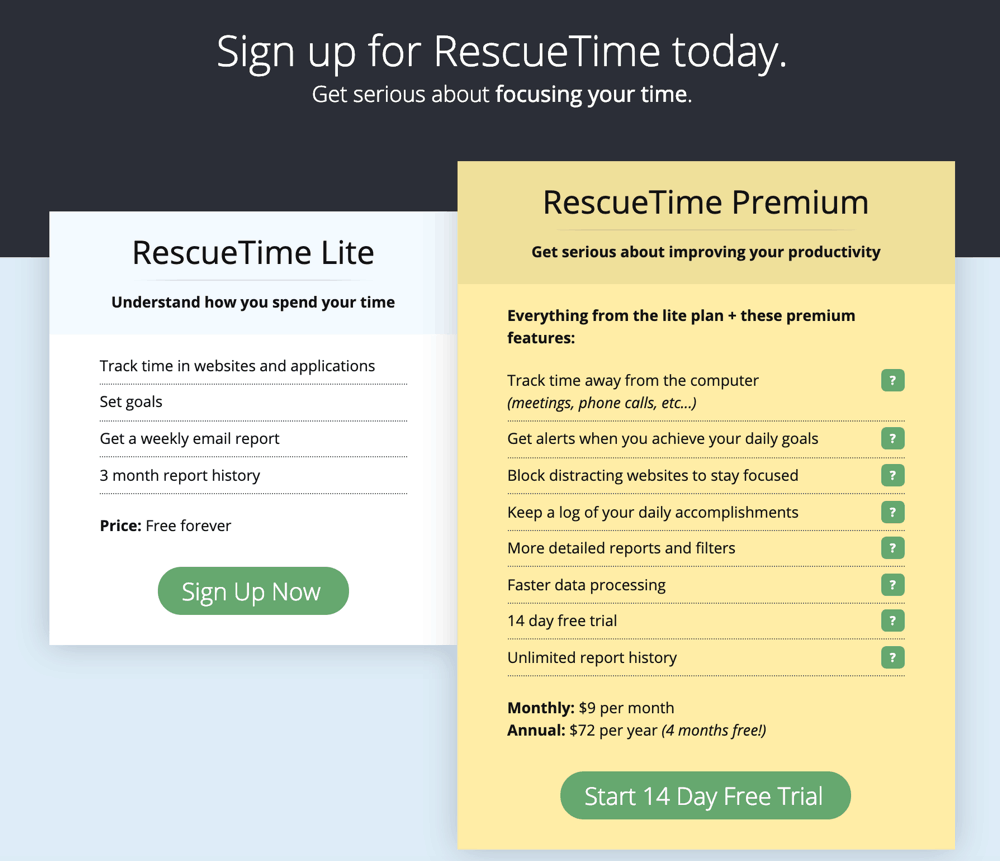 How RescueTime helped me to maximize productivity:
It all started with the weekly report that I started getting from Rescuetime.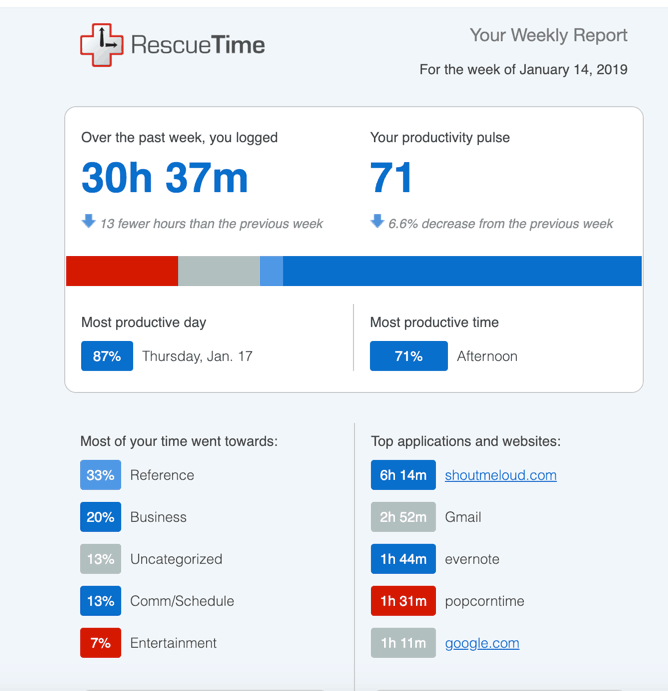 30 hours in a week time.
That's like 4.5 hours a day working.
This report was an eye-opener and I could see some real time waster like Popcorntime ( many of you know what it is), and a few other apps like Netflix.
I instantly deleted all these apps and this gamification of my own time helped me to focus more on projects that I'm more interested in.
Next week results were astonishing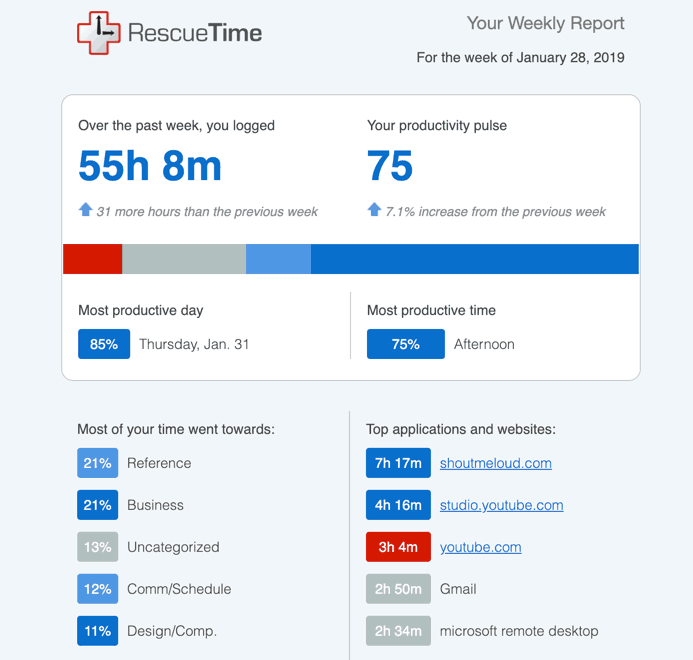 That's like 8 hours every day on the tasks which are productive. If you are frowning seeing YouTube.com in the above list, then don't as this one is a productive task for me as I spent time optimising @denharsh YouTube channel videos.
I could share more data from previous weeks and they speak the same thing.
Week after week, I saw myself:
Removing distracting apps from my phone and laptop
Maximising my productivity time
Though this was only the weekly email-report, real cream is on the rescue time dashboard that provides more data.
The option to analyze time spent online based on daily, weekly and monthly helped me to understand my own usage of the internet.
The below screenshot shows my time-spent online on various activity.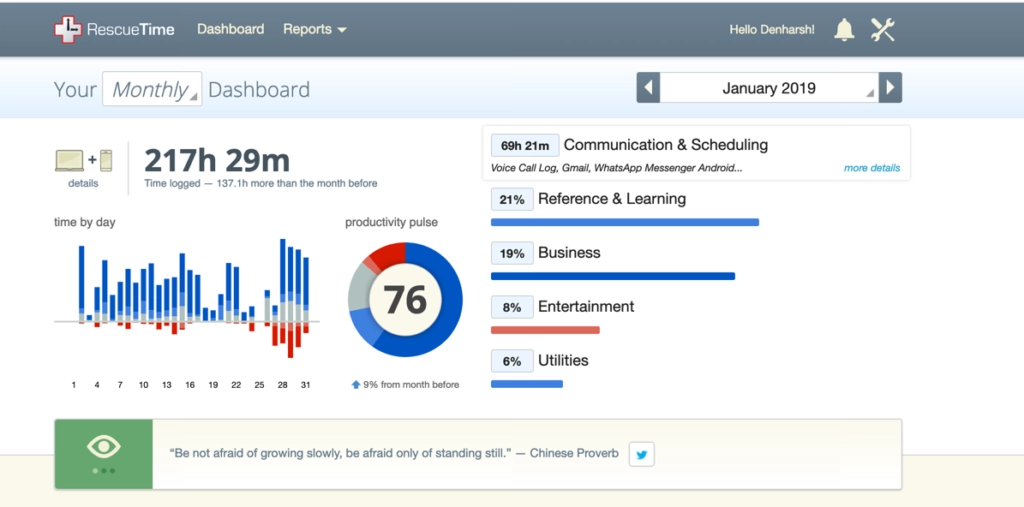 What I thought and what I was doing, had a significant difference. The Rescuetime helped me to understand where I was spending my online time and the below chart is from January month: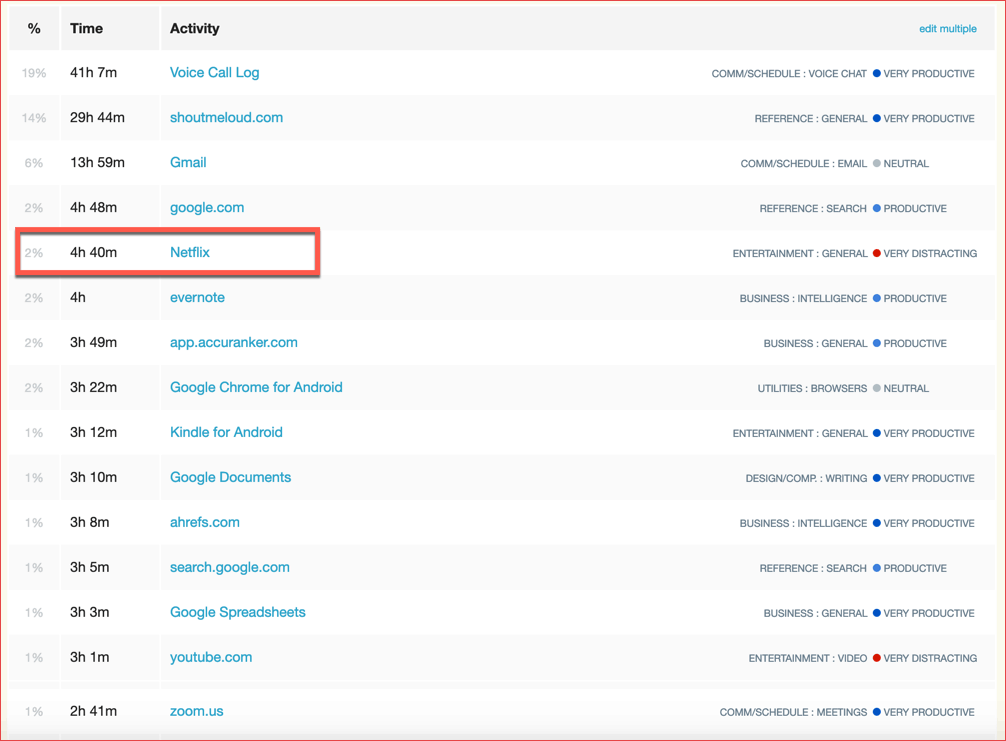 This one is pretty solid in comparison to other months, but a lot of credits after my determination goes to Rescuetime.
It was the report from earlier month, that helped me to understand how I was wasting my precious time (time=money) on meaningless activities.
For example, here is the report from a few months back (before I started maximising my time)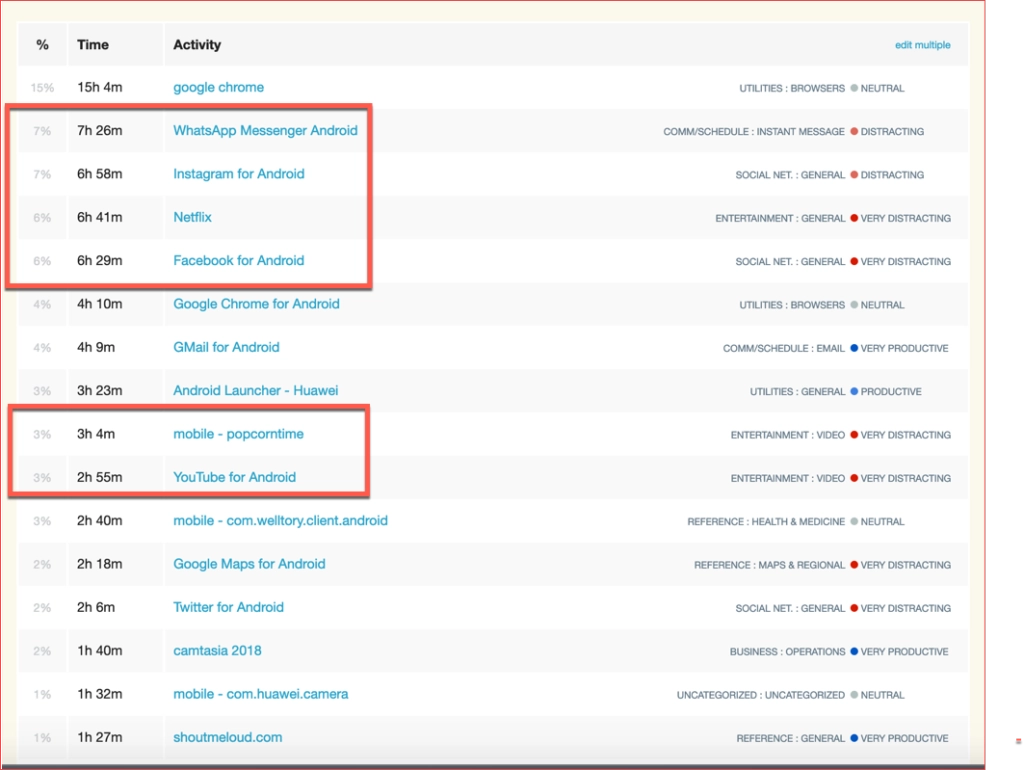 That was close to 31 hours of time in a month on activities like Social networking, movies, and others.
Do you see, how I transitioned from wasting my online time to make it productive?
I definitely want to give honest credit to RescueTime to help me see this data.
Not only, I was able to see the pattern of where my precious time is being wasted, I was also able to take the right action to maximize productivity.
Conclusion: Should you be using something like RescueTime?
Yes!
Unlike the reviews you are used to reading, I'm not sharing the features of Rescuetime. It is a simple app that you would be installing on your phone, laptop and let it do its magic. There are a few advanced hacks and usage that you can easily read from the documents of Rescuetime.
One more thing:
Block distracting site (Focus time):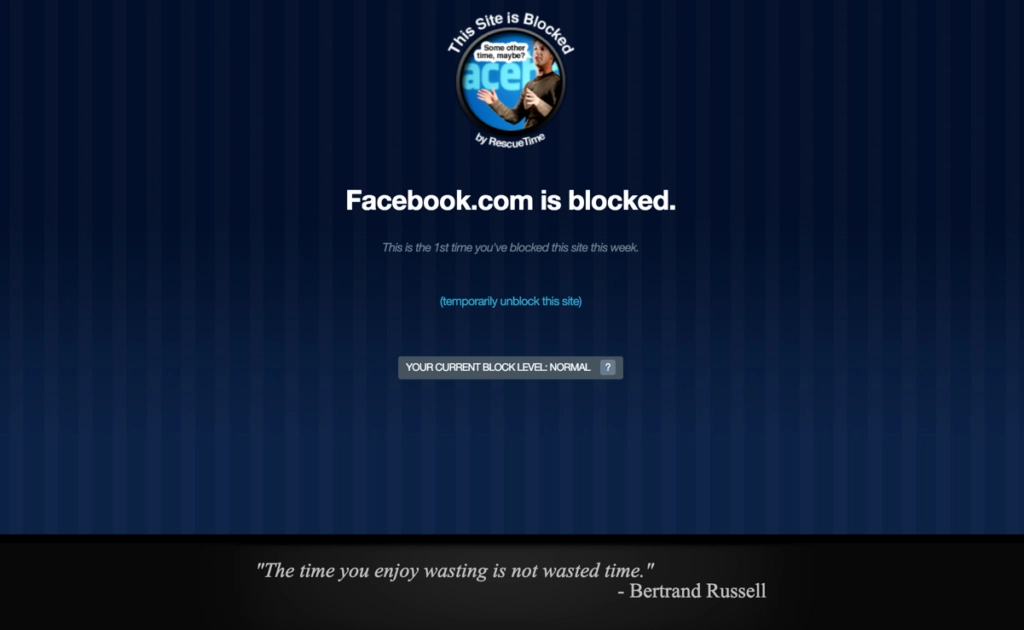 Rescuetime has a concept of focus time that you can enable anytime for any duration and it will block all the distracting websites. If you are using Slack, it will also automatically add your status as busy, so that your remote team knows you are in the flow state.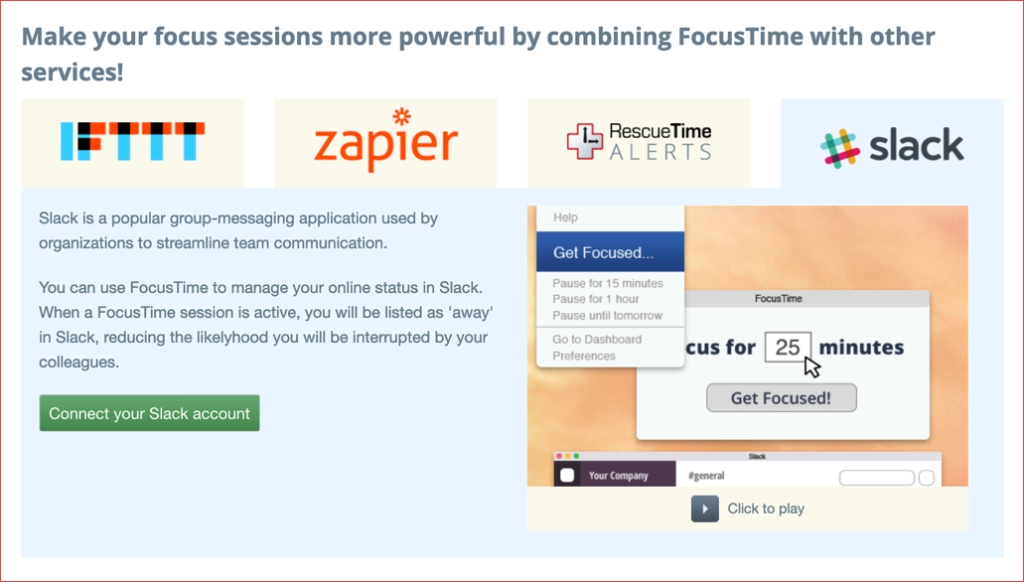 Not only it will help you in time-management and time-tracking, over time it will help you to understand the value of time.
After all, we have only 3276 hours in a month to achieve our life goal.
It doesn't matter if you are a CEO of a company or an entry-level digital marketer, by optimizing your time, you would be ahead of yourself in due time.
Do you have any question about RescueTime? Let me know in the comment section below.
If you use any similar time management software for staying productive, let me know in the comment section below.