INDWealth
*Uses AI & Machine learning
*Offers Direct mutual funds
*Offers PMS, AIF
++ More
*Free to use
*Paid advisory available
at 399/month
Goalwise
*Goal based Investing
*Direct mutual funds
*Easy platform to use

*Free to use
*Financial planning @26k/Annum
Finpeg
*Uses Algorithm to find the right time to invest
*Suitable for 1-7 year time horizon investment.

*Not free as invest in Regular funds
Kuvera
*Direct mutual funds
*Tax harvesting
*Goal based investing
*Free to use
*Addons are paid
Groww
*Direct mutual funds
Finally, you have decided to leave the age-old ways of investing and take a more data-driven approach to invest and grow your wealth. However, you are not sure if Robo advisor services are best for you to invest or not.
In this article, I will help you understand everything about Robo advisors. Here is what you can expect to learn today:
Best Robo Advisor services in India
What Is a Robo-Advisor?
Pros and cons of Robo Advisor
In case, if you wish to brush up your Robo advisor basics, do browse till the end to learn the same.
But, first thing first: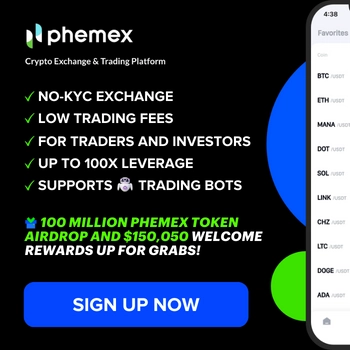 Top Robo advisor services in India:
1. INDWealth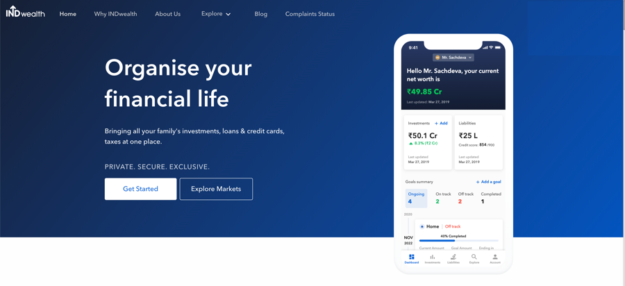 When it comes to the best Indian Roboadvisory service, INDwealth is the landmark in the Indian financial system. The platform is free to use, and like every other advisory, they advocate direct mutual funds over regular one. Using the same mantra, all the Indian Robo advisors are capturing the market.
However, INDWealth is the only one that is taking Robo advisory to the level it deserved. It definitely deserves an honest review, but for now, we will focus on how INDWealth could be of your help.
Update: INDWealth review
INDWealth lets you manage your individual account, your HUF account, and also your corporate account. What I like the most is the option to manage a Corporate account, which is somehow missed by all other popular Robo advisory services in India.
Here is the best part about INDwealth Robo advisory:
Once you import your investment details to the INDWealth platform, it personalizes how the current market scenario it affecting your portfolio. The beneficial part about this report is, it also suggests if you should hold or let go of your existing investment.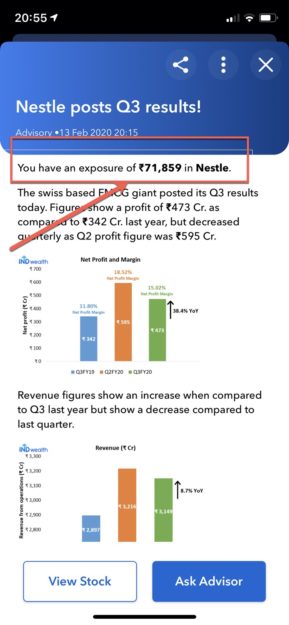 INDwealth is the disruptive factor of the Indian investment scene, as it suggests investment that no one else would invest. For example: Investing in the short term, and long term bonds, other investment instruments like PMS, AIS to start with.
Nonetheless, as a Robo advisory services, INDwealth wins hands down. For more on INDwealth, read my review of INDWealth.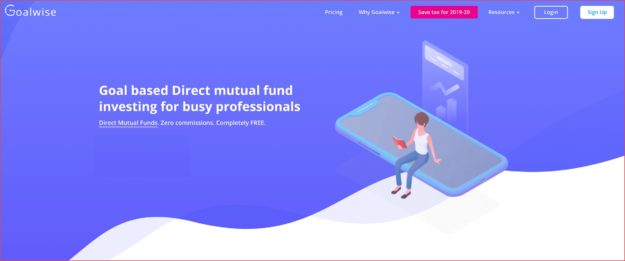 Goalwise was started by IIT alumni Ankur and Swapnil, after realizing how many innocent investors across India is getting ripped off by brokers and commission agents. With a background in hedge fund management and after managing several billion dollars, Ankur realized how algorithm-based investing could solve the biggest pain point of investors in India.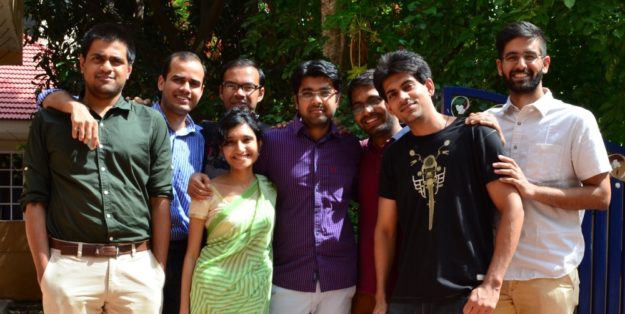 And, that's how Goalwise was born in 2016. It is one of the easiest ways to start investing in mutual funds and here are a few things you could expect as you start using Goalwise:
An easy to use interface for goal-based investing.
Direct mutual funds which will help you save 1% as the expense ratio.
Hand-picked funds to help you invest in mutual funds that could generate an alpha.
Zero commission platform.
Mobile app (Android and iOS)
Manage your family investment directly from your account
Tax gain harvesting to lower down the overall tax liability
Automated annual rebalancing
Ready-made goal-based template.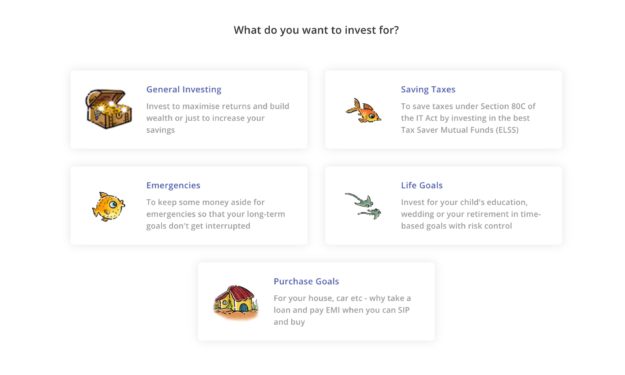 A big question that comes when anyone offering direct mutual fund plans is, how are they going to make money. Goalwise offers comprehensive financial planning as a paid service (optional), to make money.
Read: Goalwise review: Pros/cons and how to start using it
Another great option offered by the Robowise app is to convert your regular fund to direct funds. You could also transfer all funds to Goalwise via a change in broker code and save money if invested in regular plans.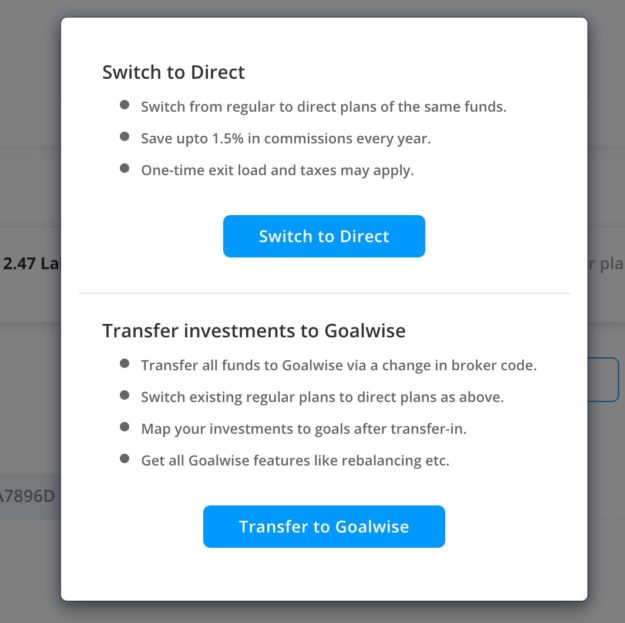 This is perhaps one of the best Robo advisor app which doesn't even require human intervention. However, if needed, you can always call the Goalwise team to get support or clarify your doubts about mutual fund investing.
The account is created instantly and it's completely free for everyone. You can also automate the SIP and use the STP feature.
From my experience of using Goalwise, it is a true paperless Robo advisor platform and also the best one in this list.
---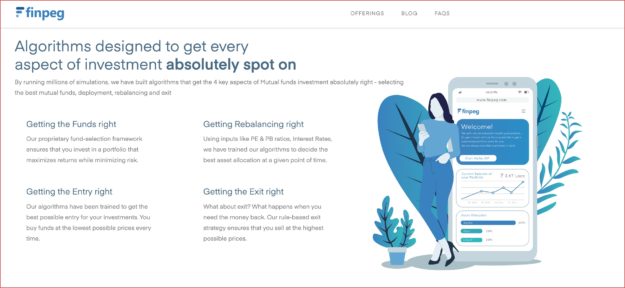 Finpeg is another Robo-advisor app from India which is definitely worth looking at. The unique value proposition they offer is that based on the market conditions, they move the funds from the equity market to debt market or vice versa.
This is what they have to say about their Alpha SIP offering:
Using various inputs like PE ratio, PB ratio, Interest Rates, we have trained our algorithm to decide the most optimal asset allocation at any given point of time.
In many situations, this is much better than investing and sitting to hope it would generate 10-12% in the span of 10 years.
This is a big missing point in the traditional mutual investing and Finpeg is bridging the gap with their Finpeg Alpha SIP offerings.
I got on a call with Finpeg team to understand some of their offerings and here are a few fine points:
They manage about 110 CR funds (Communicated by the team as of October 2019)
The company was started in 2017
Every month Finpeg team analyzes the market condition and then automatically switches the fund to generate the alpha.
Goal-based planning
They offer regular plans and that's how they make money.
They have three offerings for every kind of investors:

The dashboard is not as fancy as it could be, and investment will be taken care of by the team. They would recommend the best funds analyzed by them based on various factors to let you invest. I have a mixed feeling about Finpeg and I started a small investment of 10K INR to see how this works out. I will update this guide when I have more information in the future.
---
4. Coin by Zerodha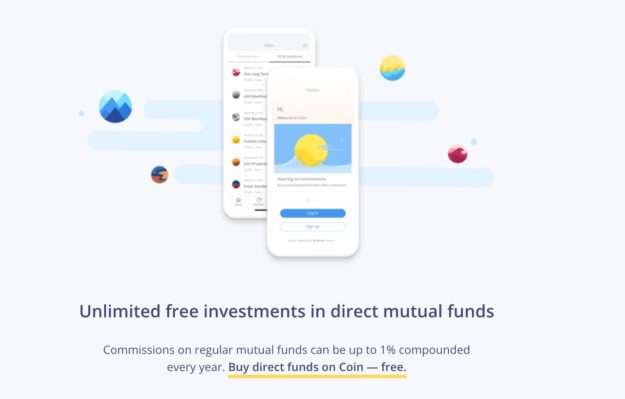 Coin by Zerodha is another commission-free mutual fund service that any new age investor would enjoy. The parent service Zerodha is an online stock trading platform and Coin is an offering by them.
With Coin, you get the following features:
Fund selection and automated advise for difference purposes (Equity, Debt, Tax saving)
An easy to use mobile app
Direct mutual funds
Set SIP or invest a lump sum
One-click redemption
Pause or resume SIP
Invest in Government securities
Unlike Goalwise and Fenpeg, Coin does not offer goal-based investing and modern tools to manage your investment. However, the simplicity of Coin and easy to use interface is something a few of you would enjoy.
To create an account on Coin, you need to sign up for Zerodha. This usually takes about 2-3 days as account is manually vetted.
Create a free account on Coin via Zerodha
---
Alright, so right now these are the best Robo advisor apps and platforms from India. As I discover more such apps that you could work with, I will share it with you.
Conclusion: Best Indian Robo advisor platform
After trying out almost all of the listed platforms and apps, I find Goalwise to be the top Robo advisor app for en entry and mid-level investors. Goal-based investing, direct funds and excellent customer support, make it the best Robo-advisor platform of India.
Now, let's do a quick brushup of Robo advisor for the newbies.
What is a Robo advisor?
Robo advisor as the name suggests is an automated digital financial planning and investment services. Such platforms take a data-driven approach to help an individual invest and grow their wealth. There is hardly any or very little human interaction as a platform provides all the information an investor needs.
Most of these platforms first take a quick assessment to understand your risk profile, age, and goals to suggest an investment plan that suits your needs. Getting started with the Robo-advisor platform is quick and even paperwork is automated.
Since these platforms are designed for beginners and even advanced investors, they are becoming one of the fastest ways to start investing in mutual funds or equity markets.
Pros of Robo advisors:
Data-driven approach to remove human error.
The low cost of operating and direct plan offerings helps in generating better results.
Automated tax harvesting helps in saving tax.
Automated calculation helps in saving money from an exit load.
Automated portfolio rebalancing
Instant execution of strategies (Automated strategies provided)
Cons of Robo advisors:
No human interaction
The approach is based on past financial data and less on intuition (This could be good or bad in the certain market situation)
Should you be using the Robo advisor app?
The Robo-advisor app industry is growing and maturing. As we invest in a mutual fund portfolio for a longer-term horizon, the Robo advisor app could generate better results in the majority of the scenario.

Should I quit my existing broker for the Robo advisor app?
If you already have a running SIP with an existing broker, you could initially lower down the SIP by 50% and invest it via the Robo advisor app. In a year or two, when you have more data to compare, you could decide if you wanna continue with your existing broker or switch to these automated platforms. Those who are HNI's (High Networth Individuals) they should be cautious, as your focus should be in the existing avenues that are generating money for you. However, learning about Robo-advisor apps is not time-consuming and you may find it quite interesting.
Have you tried any other Indian Robo advisory service? Feel free to let me know in the comment section below. I would love to explore new Robo advisory services from India, and add it if they deserve to be here.
A quick note: I'm doing this because of my own pain dealing with typical brokers, and financial advisors. My hunt let me discovered about Robo advisory service, and I'm yet trying to find a service, that could win my trust, and deliver more than the results.