When it comes to VPN services, I want to stick to only one & the best. I often try numerous VPN services & review them here at ShoutMeTech. Today I want to share the TuneelBear VPN service review, which I'm sure you will find it useful too.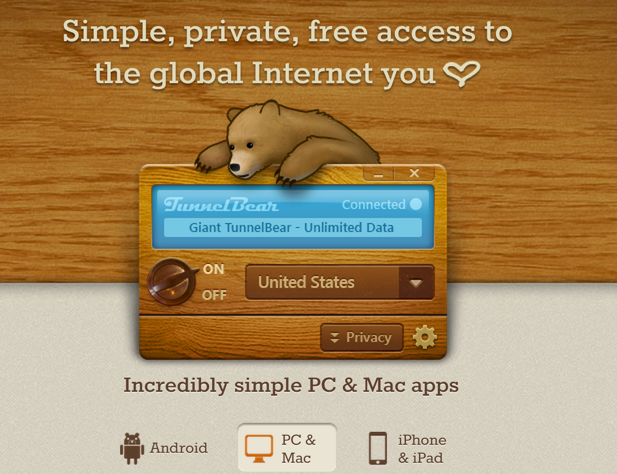 If you are about to buy a VPN service for yourself, here are the few things that you should consider:
Should support multiple devices.
Offer multiple options to connect such as Chrome extension
One account all devices.
Security & Encryption
Part of my job is to travel a lot, and I have to connect with numerous public Wi-Fi at the airport, Cafe & various other places. One of the biggest problems with using free WI-Fi is the security of your account. You can't be 100% sure that your data transmitted over that free network is 100% secure. A reliable VPN service ensures that your data is not being seen by anyone else in between, and you are safe even when using free internet at public transit.
Features & review of TunnelBear:
I bumped into TunnelBear for the first time while I was looking for a free VPN for iPhone. It got the great recommendation from many popular publications like Forbes, Lifehacker, which let me install it the right away.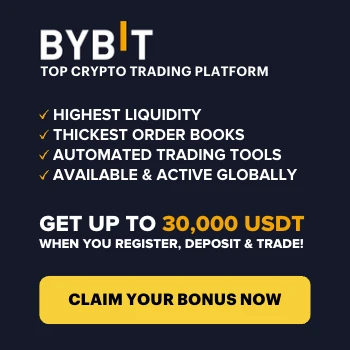 What I loved about the TunnelBear is, the User Interface & how easy it is for a non-technical users to get started with it. Once you have downloaded any of their supported device software, right now they offer:
iOS app
Android app
Mac OS App
Windows App
Chrome Extension
You will be first prompted to create a free account. Once your account is created, you get 500MB of free data every month, to use a free account. You can earn extra 1GB every month just by tweeting by TunnelBear from the app itself.
After registering your account, you need to select the plan you want to use. I would recommend selecting the free plan to try out the app, and later on, you can upgrade to paid plan as required.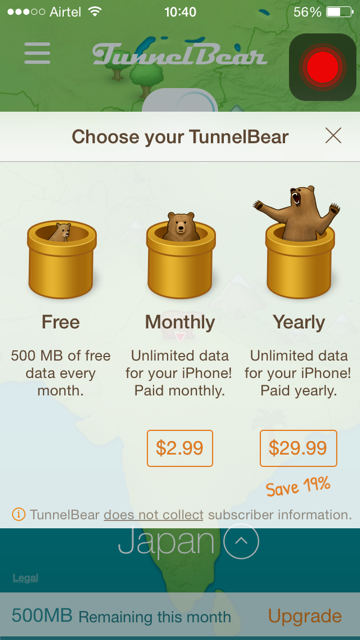 After that (Depending upon the platform) you need to install the VPN profile on your iPhone. The process is simple, and Bears at TunnelBear will guide you for the same.
By default, TunnelBear will select your location, and you can change your location from location selector.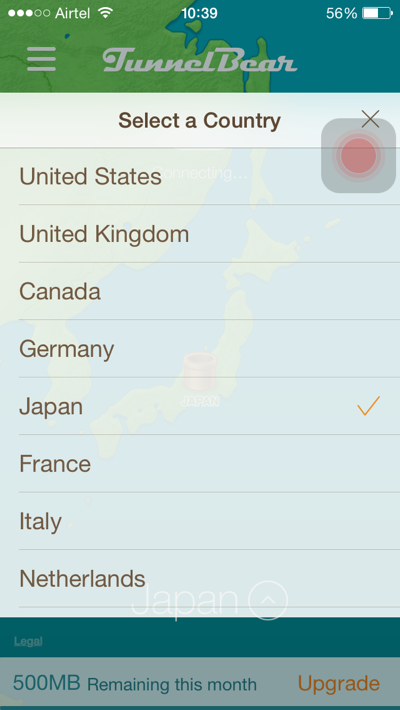 When you select the new location, it will take few seconds to create the tunnel & after that you will be browsing on VPN. Once the connection is setup, (On iPhone you will notice VPN written at the top status bar), you can open any app or browser to browse as if you are accessing the internet from selected country.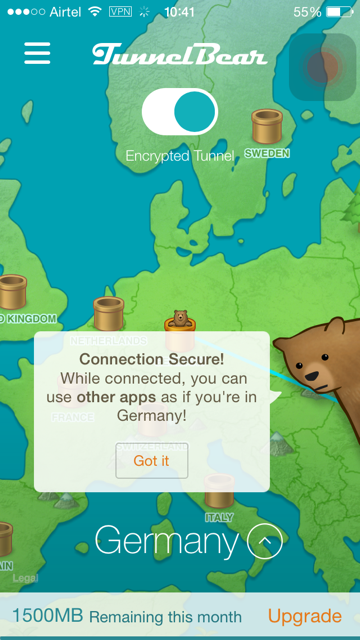 As you can see from the screenshot above, I have 1500MB bandwidth remaining in this month. You can also get 1 GB free bandwidth just by tweeting about this ultimate VPN service from the app itself.
You can download TunnelBear Android app, or for Windows or Mac from the official download page here. Even if you are not ready to use VPN service as a software, you should install TunnelBear Chrome extension, which will encrypt and secure your browsing. None the less, if you are in college or office, you will be able to access all banned sites with this chrome extension.
Is TunnelBear VPN Right for you?
TunnelBear offers unlimited data at the price of $2.99 only, which is one of the cheapest in the VPN industry. You can use the same account on all your devices, which makes it one of the best VPN service available.
Even if you are not so used to using a VPN service, I highly recommend you to download the software & setup your free account. Next time when you are travelling, and connecting to a free WI-fI network, ensure that you use a VPN tunnel software to keep yourself safe from hackers.
Don't forget to share this guide with your Friends, family & colleagues to help them secure their internet life. If you want me to review any other VPN client or you recommend any other service, feel free to let me know via comment. Don't forget to share your review of TunnelBear VPN service.