Looking for an INDMoney review?
Should you use INDMoney for your investments?
I signed up for INDMoney paid plan, and here is my experience with them…
Summary of INDMoney Review: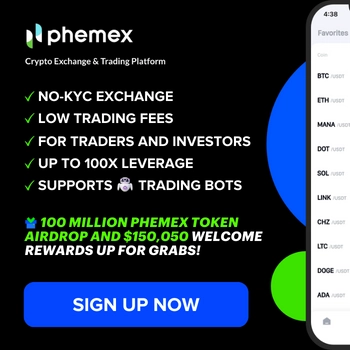 INDMoney platform is a feature-rich robo-advisory service, and it uses machine learning extensively to suggest investment tailored to you.
The platform is still new and may not the best replacement from your existing advisor.
Update: Since this INDMoney review was published, INDWealth has significantly revamped its platform and customer interaction. As of March 2022, I'm a paying customer of INDMoney, and still exploring their platform. I will update the review with new information as soon as possible. You can join me on Twitter @denharsh for the latest updates.
A detailed review and my experience of using INDMoney is shared below…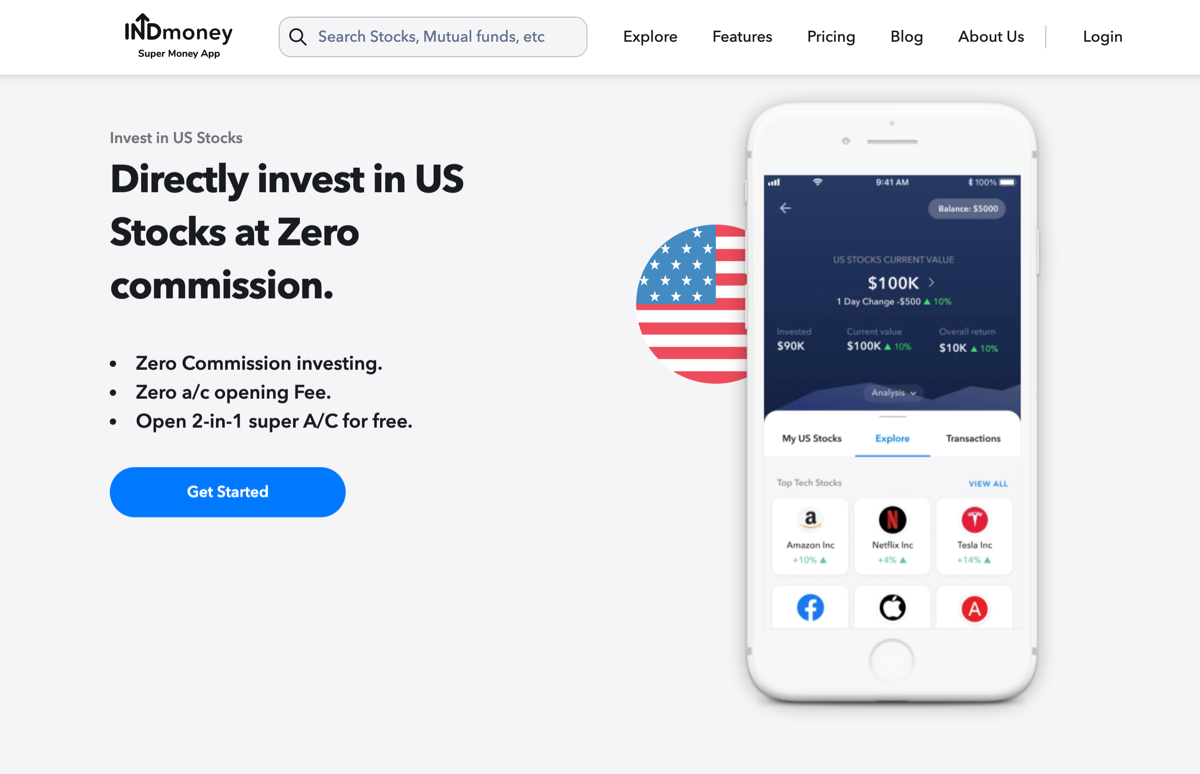 Here is how this all started…
The backstory:
A long time back, when I took a mission to help fellow Indians, become their own boss, I had no idea how this path would lead me. I feel without having financial freedom, it would not be possible to become your own boss.
My initiation in personal finance happened a long back, as I come from a business family. However, the formal initiation happened with a book called "Rich dad, Poor dad", and it was 2013 when I started investing my hard-earned money in the mutual fund market.
It was the summer of 2019 when I realized all my investments in the past few years, have generated only 1-3% returns. I would have cared less, as I'm a long-term player, but when I realized even with such a low return on my investment, it was my advisors who were making 1% every year from my investment.
That was a wake-up call for me, as it does not feel right. It's not the 1% that I cared about most, it's that after 4-5 years of investing, my advisor was managing everything passively with a strategy but, without knowing the outcome.
Since then I have spent countless hours talking, and learning from the best financial planners, wealth managers across the globe.
My initial discovery, let me realize how uneducated, and unorganized the wealth management industry is, and why it requires a lot of transparency, and quality products.
And, I started figuring out better ways to do things.
My journey led me to discover Robo advisory platforms like Goalwise, INDWealth, Kuvera to name a few.
I was happy with the new discovery and started exploring them one by one, to find a perfect solution for myself. Something, that could be a better and cheaper solution than my existing solution.
Of all the solutions, I found Goalwise to be perfect, but it offered support via chat only. I found having an on-call advisor is an important feature for me, and something most of the platforms were not offering.
This is when a friend of mine told me about INDWealth. The website looked different from any other investment management platform that I have used before, and out of curiosity, I created a free account. I imported my mutual fund portfolio, connected with my Zerodha account, and within minutes, my free account was set up on INDWealth.
What I found the most surprising was this: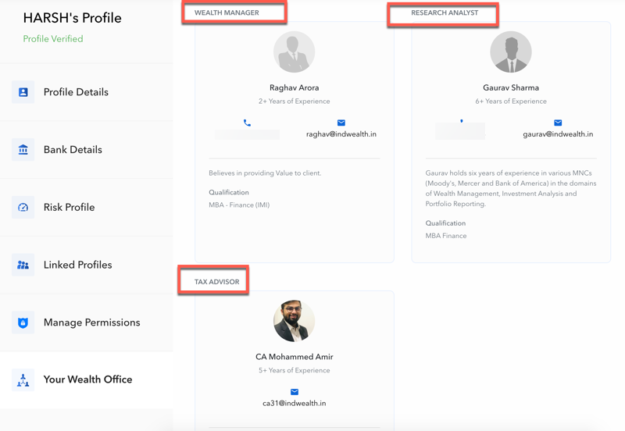 The platform was offering:
Wealth manager
Research analyst
Tax advisor
PMS investment option
AIF investments
I was surprised to see something like this and was contacted by the "Wealth manager" for requirements, and meetings.
For me, this was a missing point, and I was happy to discover something like this. Secretly, I wished if INDWealth ends up being the solution I was looking for.
In between, I also researched the platform and the people behind it. I realized the platform was crafted by another well-known tech entrepreneur named "Ashish Kashyap" as a solution to his experience with wealth managers.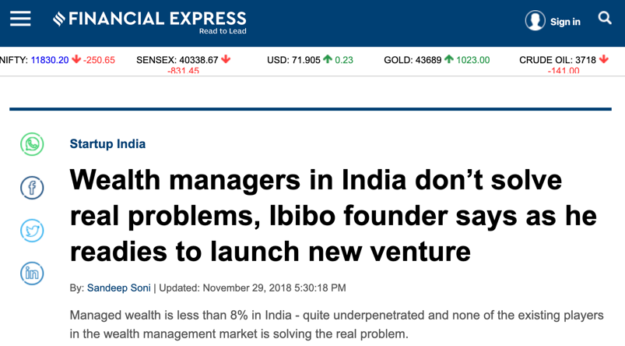 This video also added a lot of weightage to his vision:
I believe that was quite promising as an intent, and I decided to entertain this, and scheduled a meeting with the wealth manager.
In the first meeting, I learned about INDWealth, and my POV was to see if this could be a replacement for the traditional way of investment or not.
The wealth manager "Raghav Arora", was a young 25-year-old gentleman who shared more details about INDWealth.
Here are a few things that I learned in the initial 2 meetings:
No commission on any product:
View of entire net worth across your family members:
Automated advisory: Own equity engines and debt engines. Risk bundle, return bundle (Sharpe ratio), fund manager bundle (Performance in current and other funds, alpha generation, downside capture), all the funds are rated.
Using Artificial intelligence and ML
Offer taxation services
Offers Succession planning and will planning (At an additional cost)
How does INDWealth make money?
INDWealth monetization technique is via advisory fees. Since they recommend a commission-free products, the advisory fees keep their business afloat.
They have plans for all types of investors: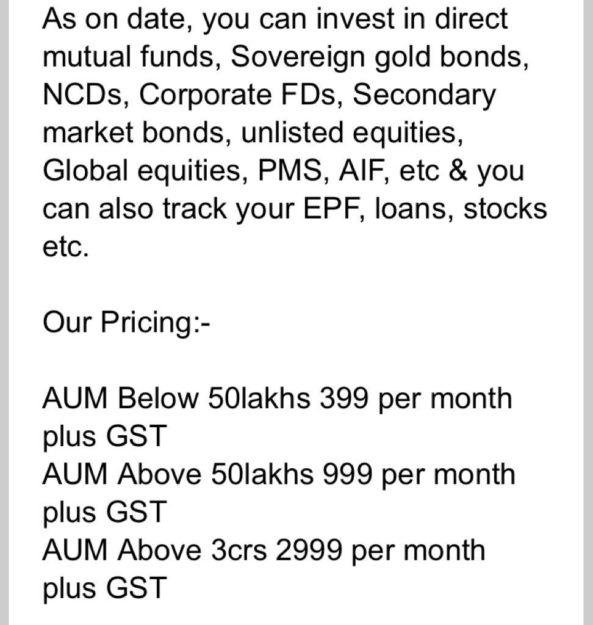 3999 per month for Portfolio management – Below 10 Crore (This is for the entire family that includes 4 PAN card)
5999 – Per month for Portfolio management – Above 10 crore (This is for the entire family that includes 4 PAN card)
I also learned the various investment instruments offered by INDWealth.
A lot of features like tax advisory, Analysts are a free add-on and seemed too good to be true.
However, I was happy that there is a forward-looking fintech app from India. And, apart from the initial planning and execution of strategy, my requirement was to have a point of contact in case of queries.
INDWealth, seemed to be offering all this, and I signed up for their 3999 per month service for Portfolio management.
My Experience with INDWealth service:
I sat down with Wealth manager, and Analysts at my Gurgaon office, and in my hour-long meeting, I helped them understand my goals, my existing investment, and how we will take this plan ahead. The wealth manager suggested a date by which he would send me the new plan.
I was very excited, and happy as after looking into this industry for 7-8 months, I found a company that is truly bringing something of value in the fintech industry. For someone who enjoys technology, and believes in data, I was happy to be part of something at an early stage.
Anyways, I guess I celebrated too early. As promised, the wealth manager or anyone from the INDWealth team did not get back to me on time. I called my wealth manager, he said he will send it in a day or two.
But again, nothing!
I tweeted about it, and guess what:
With in the next 3 hours, the plan was in my email.
But, when I looked into the plan, I realized it was not worth it. It seemed like a low-level work and done just to put a tick on the pending tasks by someone.
I was disappointed by the fact that, even the company looked pretty amazing, the quality of the investment plan was not what you would expect.
I realized, INDWealth tech part may look pretty forward-thinking, but they still have a lot to learn when it comes to client relationship management. Nonetheless, this experience also taught me that "New is not always good", and I realize that it's better to wait for a year or so before using a new platform like this.
It would be too risky for an investor like me or you to try something so new, especially, when the platform is trying to find a product-market fit.
Another Feedback:
INDWealth also analyzes our existing portfolio and suggest how changing market condition is affecting our portfolio. These details are very helpful in many cases, and I found it very exciting initially.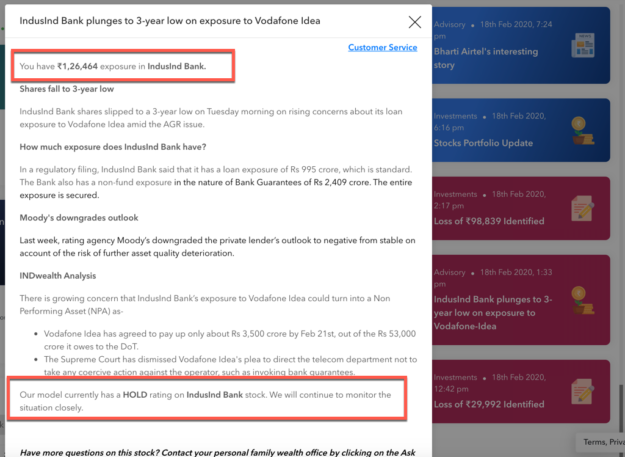 However, with time, I realize that daily notification is not of any help, and in some cases it is annoying. As a silent investor, we may not need to know so many details about your investment, and this notification works as a distraction.
Suggestion for INDWealth: Perhaps a way for the client to control which kind of notification they would like to see, would make a lot of difference.
What do I feel about INDWealth?
As a superior-tech platform, INDWealth has a great advantage, and they do offer a lot of investment options within a single platform. The add-on like wealth manager, the analyst, and tax harvesting is something that adds a lot of value to the end-user.
The platform is unlike any other Robo-advisory services that you may have seen before. Stuff like goal-based investing, regular to direct plan switching also makes it a great platform for someone who would like to manage funds of their own.
On the other hand,
The price tag of 4000/month feels too much, considering their advisory servcies and professionalism is not up to the mark. Currently, it would be better to hire independent financial planner, and use a platform like INDWealth (free offering) or Goalwise (Free) to execute of their own.
Conclusion INDWealth review:
INDWealth is on a mission to become the wealth office for individuals, and families. The tech part of the platform looks super promising, and the product is being refined every now and then.
However, as a paid product INDWealth has a long way to go, and I recommend staying away for at least a year before you plan to use INDWealth for your wealth management. The platform is still trying to find a ground, and there is a lot of mismanaged parts. What good a platform is, if they can't make the best financial strategy even after paying.
Do share your experience, and review of INDWealth in the comment section before. If you like tweeting, you could join my Twitter thread on INDWealth review here.