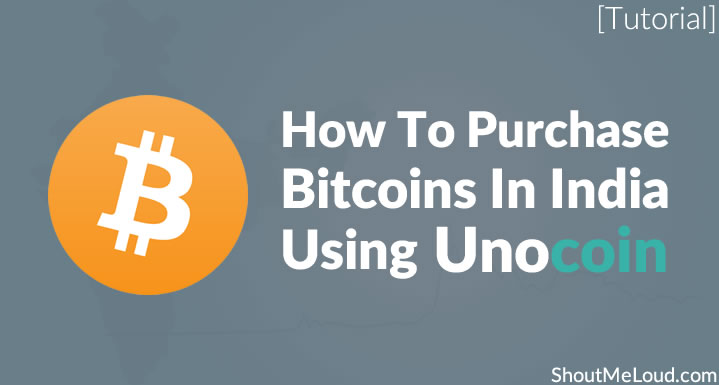 Note: This tutorial is for residents of India only. If you are from any other country, you should read the Bitcoin buying guide for Coinbase.
Have you been planning to buy your first Bitcoin in India? And do you also have no idea how to go ahead with this?
Well, today is a good day for you. In this step by step guide, you will learn how to purchase your first Bitcoin in India. For this guide, we are buying Bitcoin from the popular Indian Bitcoin buying & selling website "Unocoin".
If you want to know about all of the other popular Bitcoin websites including exchanges in India, read this detailed post.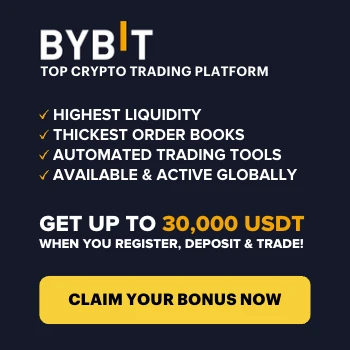 In India, Unocoin is a popular website to buy Bitcoin. It's newbie friendly because the interface is more user-friendly & they have both an iOS & an Android app.
A few things to know before buying your first Bitcoin in India:
Bitcoin is legal in India. However, it's not regulated by RBI.
On December 24, 2013, RBI issued a press release on virtual currencies (like Bitcoins, Litecoins, Etherium, Dogecoins, etc.) stating that creation, trade, and usage of virtual currencies as a medium for payment is not authorized by any central bank or monetary authority.
Unocoin is a legal website to buy & sell Bitcoin.
Well, it's a no-brainer that RBI & the Indian government will start taking Bitcoin seriously as it's being adopted by more users globally. I'm pretty sure you are already aware of how popular Bitcoin & Blockchain technology has become in the past three years.
In fact, Bitcoin is very stable. The current speculation is that it will cross the $1,000 threshold in 2017. Well, only time can tell…
But for now, purchasing Bitcoin is sound advice & a risk worth taking.
Without further ado, let's follow the steps below, get our first Bitcoin wallet for free & then purchase Bitcoin.
Step by step guide for Indians to purchase their first Bitcoin:
Head over to the Unocoin site & sign up for an account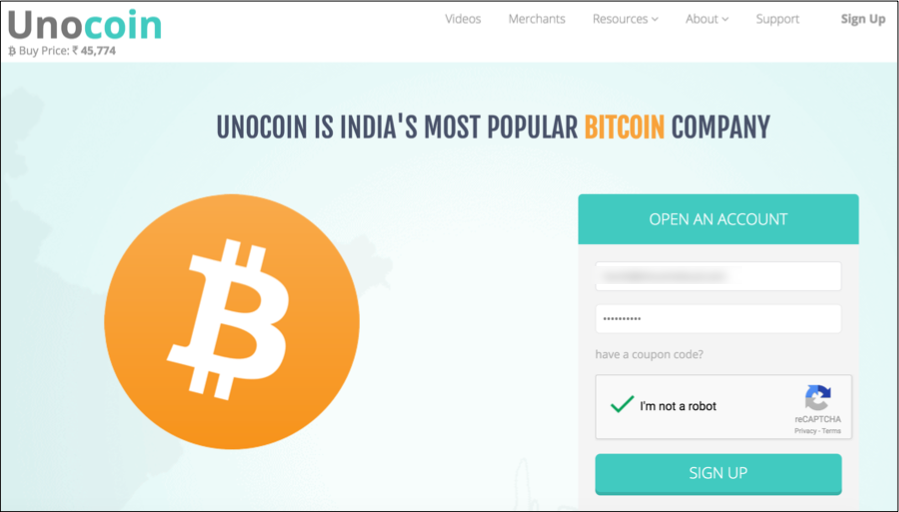 You will get a registration verification email from Unocoin; click on it to verify your registration.
Log in to your newly created Unocoin account.
The next step is to complete the KYC. Start by adding your bank account details. This is where you will also receive money when you decide to sell your Bitcoin. The bank account should belong to the same person/organization operating this Unocoin account. You may only add one bank account.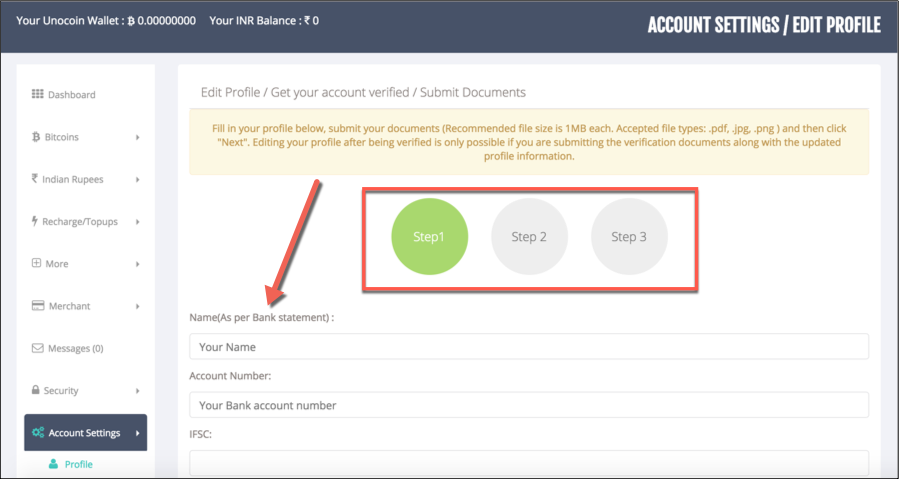 In the next step, you need to update your documents for the KYC. Here are the documents that are required:
Copy of Pan card
Your photo
Address proof (Aadhar card showing address OR Driving license OR Passport page showing address)
Passport page/Aadhar card showing photo
In my case, I used my Passport + my Pan card to verify my account. This KYC verification will take about a day & once that is done, you will be able to start buying Bitcoins.
Note: Even if you don't buy Bitcoin at this time, you still have created a free Bitcoin wallet address for yourself. You can use this at any time to receive Bitcoins from anyone.
Adding funds to your Unocoin account
To purchase Bitcoin, you need to add funds to your Unocoin account. This can be done with the help of NEFT/RTGS/IMPS.
Click on the "Indian Rupee" column on left side & click on "Deposit".
On the next page, scroll down & you will see the bank details to deposit the funds.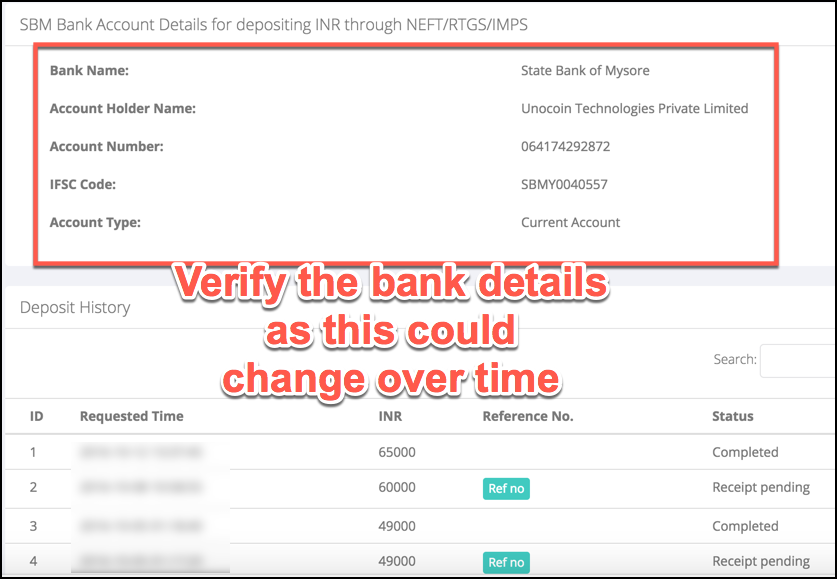 You can start by adding any amount of funds (let's say 10,000 INR for this example):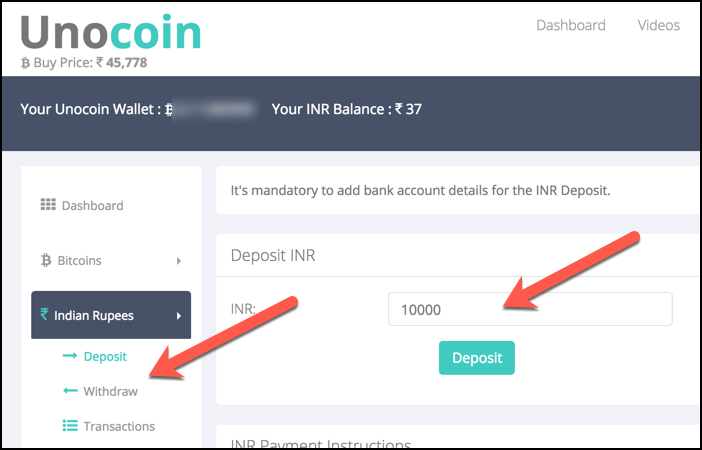 Click on "Deposit" & confirm the deposit by clicking "Yes".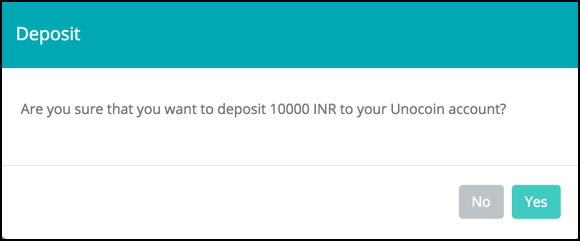 Add the bank account address into your bank account.
Deposit the amount that you wish to add. For this example: 10,000 INR.
Note the reference number (very important).
Once you have added the funds & you have the reference number, on the same page, under the "Deposit" column, you will be able to add in the reference number. (Refer to below screenshot.)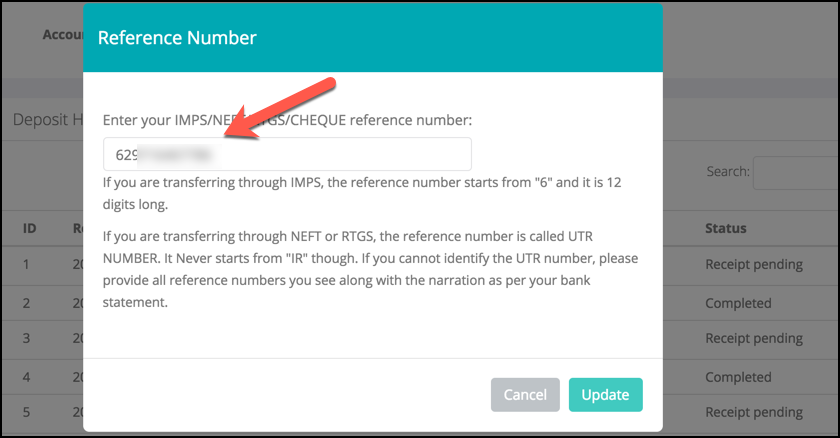 Now, grab a coffee and/or watch a movie. It will take a couple of hours before the funds will be reflected in your account.
I know it's not cool, but for now, that's the only way by which Indians can start buying Bitcoins. After the first time, this will not annoy you as you will be used to the process.
Here is a video that helps you understand:
Moreover, after this, you can always use the Unocoin Android or iOS App to add funds & buy Bitcoins.
Once the money has been deposited into your Unocoin INR wallet, go back to the dashboard of Unocoin & you can start purchasing more.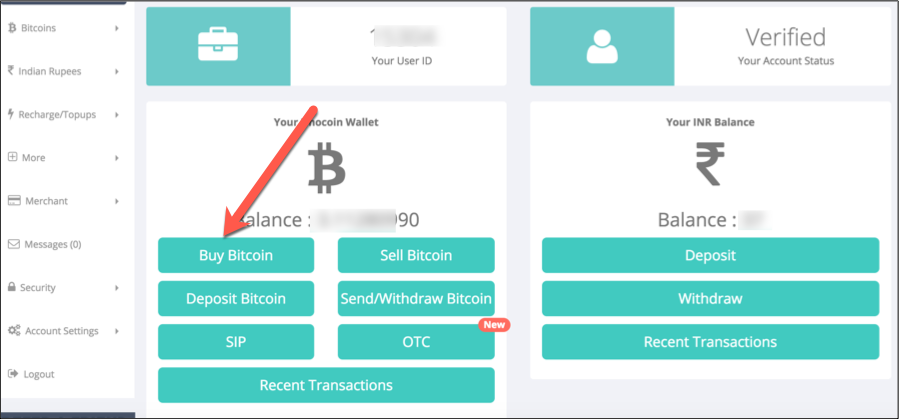 On the next page, you can directly buy Bitcoin which can be added directly to your Unocoin Bitcoin wallet address or any other Bitcoin wallet address.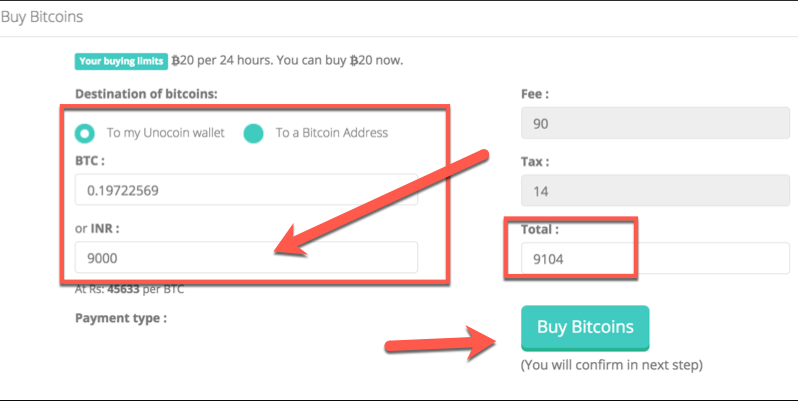 Once you hit the "Buy Bitcoins" button, your transaction will happen in real-time & Bitcoins will be added to your account.
Here is a video that will help you to understand the full process:
Well, if you have followed all of the mentioned steps, then congratulations! You are now the proud owner of some Bitcoin.
While we are done with the Unocoin guide for purchasing Bitcoin, I suggest you explore all of the other options offered by Unocoin. In particular, the one which is related to the security of your account is especially important to pay attention to.
Click on Security > 2-Factor Auth & Enable Secondary Password (Google Authenticator).
I will talk about the Bitcoin security & Unocoin account security in the coming days.
For now, do let me know: How's your experience of purchasing Bitcoin? What are your plans for investing in Bitcoin?
For keeping yourself updated with the latest news & guides for Bitcoin, subscribe to our newsletter & join us on Facebook & Twitter.
For further reading: