Do you want to get a free Kindle or a free Samsung phone? When I say 'FREE,' I mean it!
How does it feel when you know about something that can get you free money. However, you missed out on grabbing it. This is something that happened to me & I believe it's happening with many more people around us. If, not you, your family member might not be aware of it. The thing that I'm talking about is called Payback point that is available in India, Germany, Poland, Italy & Mexico. If you are not from India, you should look for similar service in your country because this is widely accepted practice globally.
Before I move ahead with this epic post, you should answer these simple questions:
Do you know that for every online transaction you make, you earn points?
Do you know you can redeem these points for getting free stuff such as Kindle, mobile phones, home gadgets & many more?
Or, you can redeem these points for cash?
And for this, you don't need to spend anything extra. All you need to do is to continue online shopping or using your credit/debit card as usual. The points are accumulated automatically with every transaction & you can redeem it anytime you want.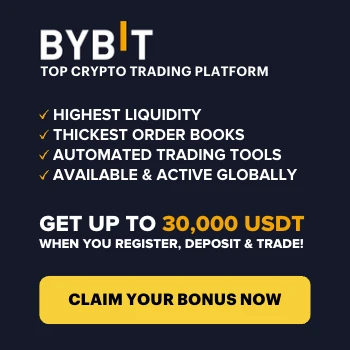 This post is all about this which made me earn a free Kindle & now I have figured out a way to get real cash back on every online purchase. In this guide, you will learn everything about Payback service that is free to join & can be used by anyone including you.
What is PayBack point & how it works?
I have been seeing Payback logo at a lot of places including MakeMytrip, BookmyShow & many other services which offers online purchases. Over the time, I developed banner blindness for Payback logo & missed out earning valuable points. More on it later, but first let me tell you what Payback is.
Payback is a multi-partner free loyalty program that lets you earn points for the daily activities you do, like car fuel, flight tickets, hotel booking, shopping, eating out, watching movies, etc. They have an enormous pool of partners & you earn points when you pay by cash, cheque, net-banking, credit or debit card.
This program is valid all over India, Germany, Poland, Italy & Mexico & you don't have to be in one of the metro cities to take advantage of it. Anyone can apply for a free Payback card from their site here, which you will be receiving in 1-2 week time. Or, you can also get a PayBack card from their partner companies like Bigbazaar, ICICI Bank, HPCL, MakeMytrip to name a few.
Note: If you are an ICICI Bank customer, you will have your Payback account activated from day 1. I have shared the guide for ICICI bank users at the bottom.
This is how a Payback card looks like: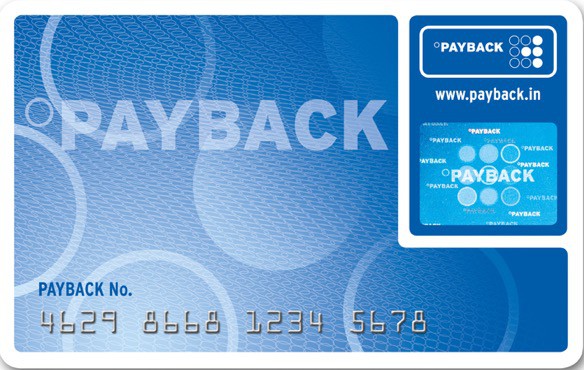 When you are shopping online, all you need is your unique 16 digit Payback number. When you are buying from an offline retail store such as BigBazaar, in that case, you need to carry your Payback card.
ICICI Bank Users & PayBack account:
I'm euphoric that I have an ICICI bank account as they offer great features & services for their customer. One of them is automatic Payback account creation. When you open an account with ICICI bank, it automatically creates a Payback account for you & link it to your ICICI bank account.
Now, Whenever you use your ICICI bank account for transactions, points are automatically added to your Payback account. The interesting thing here is, I underlooked this feature for years & recently realized how powerful their reward feature is.
If you are an ICICI Bank customer, you should login to your ICICI net banking & click on reward points section. Here you will see the details of your Payback account including current points.

As you can see right now, I have 1033 points. (I had 91K points that I redeemed for Kindle)
My story with Payback & ICICI customer care:
A few days back I was on a call with an ICICI customer care representative. The lady was soft-spoken, patient & she was helping me out with my credit card issue & this is when she told me about this reward program. She said that I have 91,000+ Payback points & I can redeem it.
Initially, I thought the maximum I could get out of this is few pen-drives or few low-priced gadget. I was awestruck when I went to payback site for redeeming the points & got a Kindle for 81K points.
You can go here to see what all you can redeem aginst your Payback points.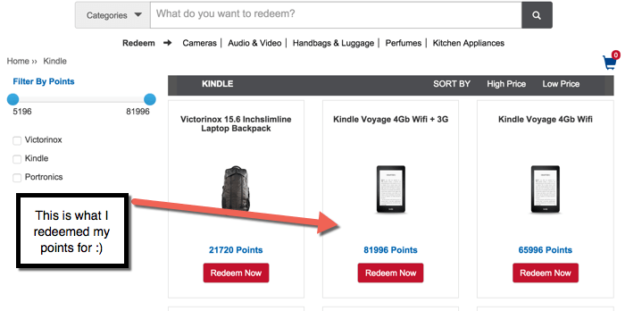 Honestly, I wasn't expecting to see Kindle in the list but let's just call it good luck! 🙂
It's not necessary to be a customer of ICICI bank for using Payback account, but having an ICICI Bank have added advantages. The major advantage is you get double the points when you make a purchase from multiple partners.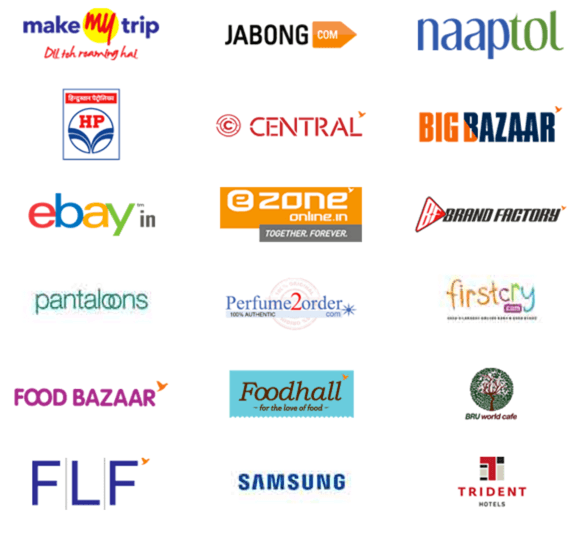 Ex: If you buy a flight ticket from MakeMyTrip using your ICICI debit card, you will get Payback points from MakeMytrip & ICICI bank separately. You can see complete list of Payback partners here.
Real cash for your Payback points:
This one was very new & I got to know about this after spending quite a time with Payback customer service. Today, when I received my free Kindle Voyage, I was jumping with joy & wanted to know more about Payback service. While I was collecting all the information for this post, I got to know about something awesome.
Your 4 payback points= 1 INR
And, you can redeem this points as real cash in your account if you own a Coral credit card from ICICI bank. Sadly, Coral credit card is not something very easy to get with a new bank account but I would suggest speaking to your local ICICI branch & see if they can work out something for you.

For now, I have used my Payback points for redeeming the goodies but moving forward I will be taking the cashback. This will help me to save money & instead of redeeming points for goodies (Which is not essential), I can put that money to good use.
Power tips for getting more Payback points:
Merge your multiple Payback accounts:
Your MakeMyTrip Payback account is separate from your bank Payback account or the one you got from Big bazaar or manually through Payback site. You can call Payback customer care at 18004190726 & ask them to join all the cards.
Use one account in the family for shopping:
You can ask your family member to use only one account for booking flight tickets from MakeMytrip or movie/event tickets from Bookmyshow. Similarly, you can use the same card for your grocery shopping.
Earn double points by mix & match of multiple partners:

You can make use of our power of multiplicity benefit by making a transaction with different partners from the same source and yet earn points from all of them. For Eg: If you book for an air ticket through www.makemytrip.com and make the payment using your ICICI BANK Credit or Debit card, you are eligible to earn points from both the partners on the same transaction as they are participating partners with PAYBACK.
You can do much more with your Payback account & I would suggest you to spend a little time reading about it on their FAQ page. While you are learning about Payback, you should also Checkout Cashkaro, which offers a cash refund for your online purchases.
Create free account on Payback
I'm quite fascinated with these loyalty programs & cashback offers as they help us to earn from our expenditure. For now, I have decided not to miss out on these loyalty programs & make most out of it. I will share more similar programs as I discover over the time. If you know of any loyalty program that I should join, do let me know in the comment section.
Do share this post with your Indian friends or your family & you never know they might be able to get a free Kindle for themselves. Also, I would like to know how many points do you have in your Payback account?