It is said that a picture is worth thousand words. Sometimes, it is the only medium to tell someone how much we miss them. They are the best ways to keep memories alive and reminisce experiences. They are beautiful reminders of the past. It only takes a minute to click but the output, the pictures; hold in them, a lifetime of ageless beauty. For a blogger, you can take advantage of photo collage to make your post looks more beautiful and appeling.
A new trend these days is to create photo collages. These are collation of several images into one single photograph. These are very popular. Instead of developing several pictures, you can pour in all memories in just one image. The best part about creating collages is that all your favorite people can be accommodated in one single picture. This way, even if your aunt missed your dad's fiftieth birthday party, a collage which shows her and your dad on the beach together with other pictures would be the perfect gift for your father.
There are a number of online tools which can help you in creating awesome looking photo collage. They only take minutes to create. All you need are your photos which are to be uploaded and then you can create a collage easily. Here I'm sharing some of the tools which you should keep in your disposal all the time.
Check these Awesome Websites to Create Collages
1. Picisto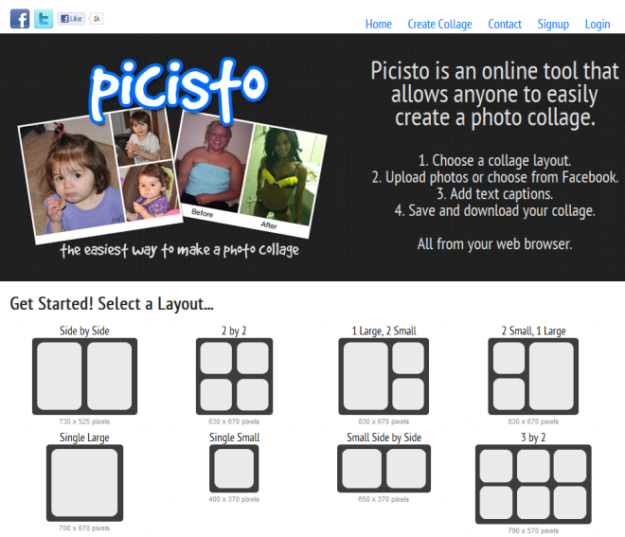 This is a rich collage making website which uses an interesting model of business. The basic features are free to use. The more advanced features can be bought from the website in the form of coins. The free service offers 15 small, 4 large, 7 Facebook and 16 blank canvasses in the interface.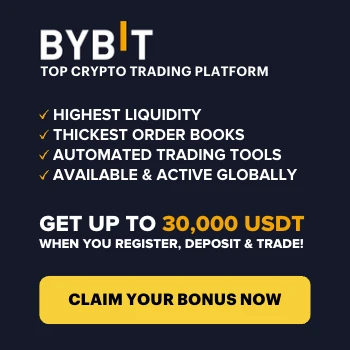 Once the layout has been chosen, you can upload all the photos you want to include in your collage. You can also import them from Facebook and Instagram. One can also copy the images from a URL or webcam or search for the desired image from the interface provided. However, there is one small problem to the whole concept. The collage will have watermark and it will be public. However, the free features of Picisto make up for them. You can also add shapes, text and change the background colors. Check out Picisto
2. Picture2Life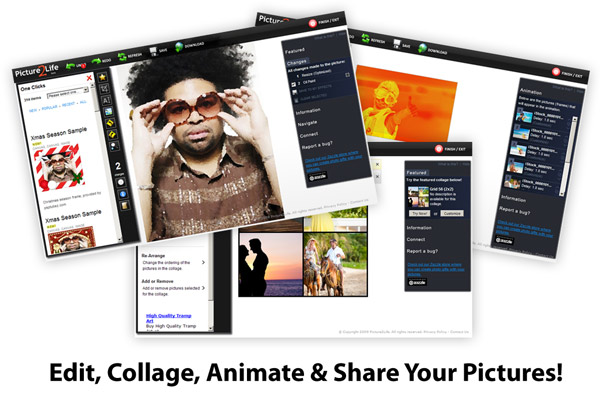 This is another great website to create amazing collages. There is an inventory of almost 300 pre-defined templates for collage making. This actually reduces the work manifold. All you can do is selecting the templates and order images for your collage. The best feature of the site is that the service also provides an add-on for Mozilla Firefox. Apart from this, the website is full of creative stuff, including editors, special effects, touch-ups etc.
The unique creator for collage helps you insert several images in a canned or custom made template, depending on your need. The service also offers several built-in tools for organizing, storing as well as sharing pictures. The interface is user friendly too. You can crop, add settings such as sepia or monochrome etc and add borders, in just one single click. This ability to save a sequence of steps with one click makes the service convenient, easy and fun to use. Browse Picture2life
3. PhotoVisi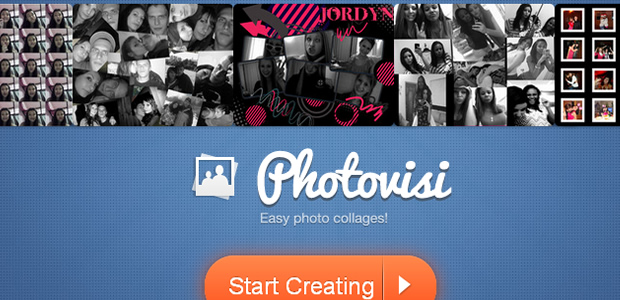 With the help of PhotoVisi, you can create photo collages online. This is a relatively new but free collage service. All you have to do is, go to the site, choose the desired template, upload your images and download the prepared collage. There are 18 pre-defined collage templates at the moment of writing. The background can be adjusted and the images can be rearranged. The templates are beautiful. Once done, not only can you use the collage on Facebook, but also on twitter, Flickr, Google+, Tumblr, emails and messages. Check out PhotoVisi Photo collage maker.
4. The shape collage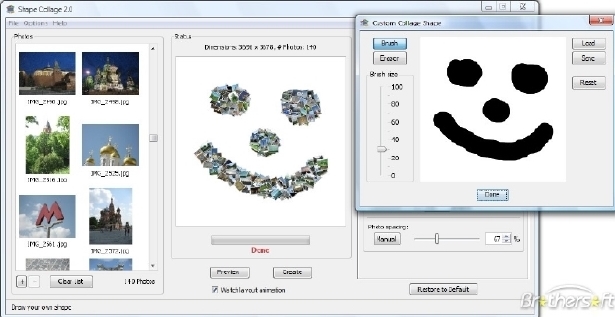 The shape collage is a shape based collage tool. It accumulates a collection of pictures or URLs of images in different shapes. To use the free version, you have to utilize the image URLs. Its desktop tool version is also available for Mac, Windows, Linux and Java platforms. You can download the software from here. The offline version is free for use and it can directly create collages from your selected images.
Shape collage has set itself distinguished from the competition by non-inclusion of add-ons and by giving a professional touch to the results. The users are all praise because both online, as well as desktop versions, are user friendly, easy to use and have an appealing interface. For the novice, the interface can be confusing at first; due to a lot of white space and limited command buttons. Moreover, there is no guidance as to how one can download images and convert them to collage. Nonetheless, the help file is handy. With a little hands-on practice, the service makes you feel at home instantly. So, if you are looking for professional collages with a powerful impact, this fantastic freeware is your answer.
5. Fotonea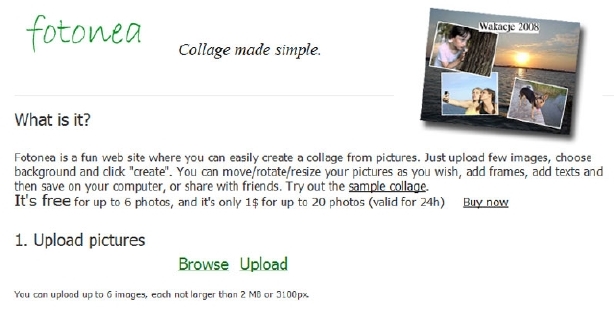 Last but not the least; Fotonea is a great tool for customization and arrangement of images for giving the final touch-ups to your collage. Getting started is simple. You just need to select the desire picture and upload it. However, you can create collages using maximum 6 images. Next, you can choose a background and a size for your collage. You can rearrange all your images by their size and alignment customization. You can create eye-catching photo collages by adding touches of innovation and creativity. You do not need to register or create an account or download and install the software. The images can also be rotated. There are custom features such as addition of text, borders for your collage and certain graphic elements as well.
Although the list can be quite extensive as everybody looks for different things while creating collages. However, the above list comprises of the top popular services which are convenient and easy to use. What is your favourite collage making site? Do let me know via comments!