When Twitter was started, no body thought one day it will turn out to be one of the biggest social media tool. With 140 characters limit, you can speak everything out and when it comes from your favorite Bollywood stars on Twitter, it means a lot. List of Bollywood Twitter users are increasing every day and here is my attempt to create a worthy list of verified Bollywood stars on Twitter.

Twitter Twitter everywhere! I know very well that some celebrities like Brad Pitt,Britney Spears, Ophra Winfrey and most powerful person of the world Mr.Obama are present on Twitter because of extreme buzz in the social media, but its extremely surprising that lots of Bollywood stars are also on Twitter. Its coolest way to connect themselves with fans. If you want to know more about your favorite stars just follow them for their cool,regular updates. There are lots of bollywood stars present on Twitter and give regular updates.Lets discuss one by one :
List of Bollywood Actor & Actress on Twitter:
Shahrukh Khan Twitter Profile:
Let me start the series with one of the renowned bollywod actor: Shahrukh khan Twitter profile. SRK is one of the big name on Twitter and he also joined Google+ lately to promote his new movie. Well, the approach is good and specially when you get a chance to talk to SRK, how could a girl can resist to follow SRK Twitter profile. You can join SRK verified profile here. Needless to mention about his fan following, which you can guess from his huge list of 18 lakh followers. Unlike other Bollywood actresses on twitter, you might not find him Tweeting pictures, but still you can expect constant updates once in a while.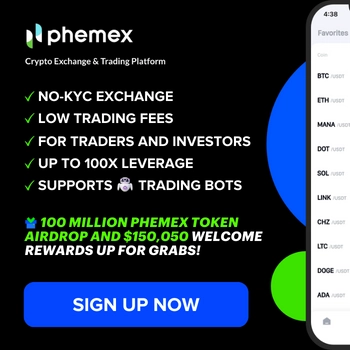 Gul Panag Twitter profile :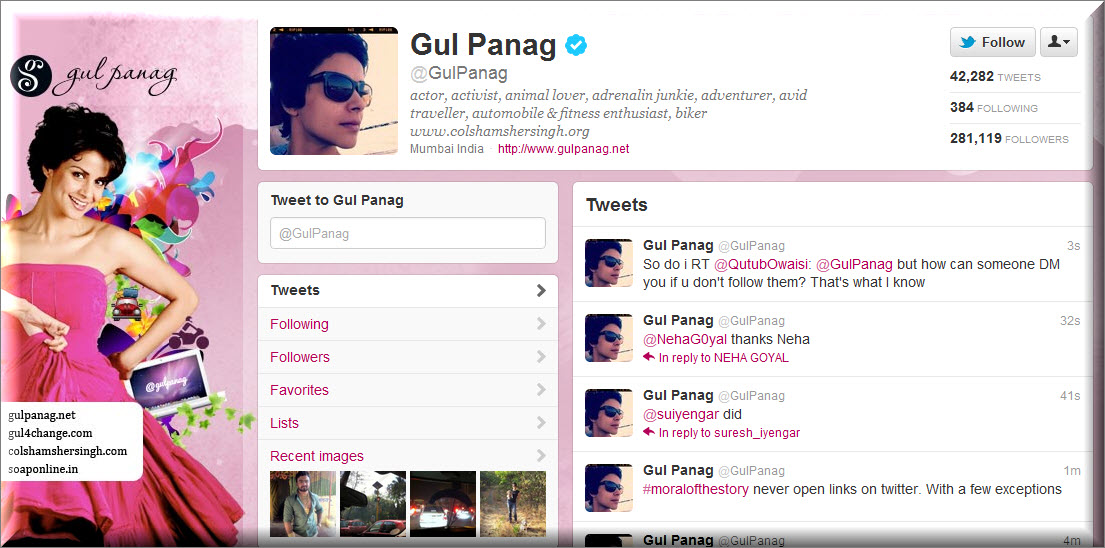 Well, the most recognized personality on Twitter, because she daily give regular updates. One surprising thing that she is an iPhone user and use her iPhone while tweet. With more than 42k updates she is the top Twitter Bollywood personality. She is one of the most followed bollywood actress on twitter with 42,282 twitter followers. Also she has a great sense of technology.Her account is Verified.You can follow her on @gulpanag.
Shahid Kapoor: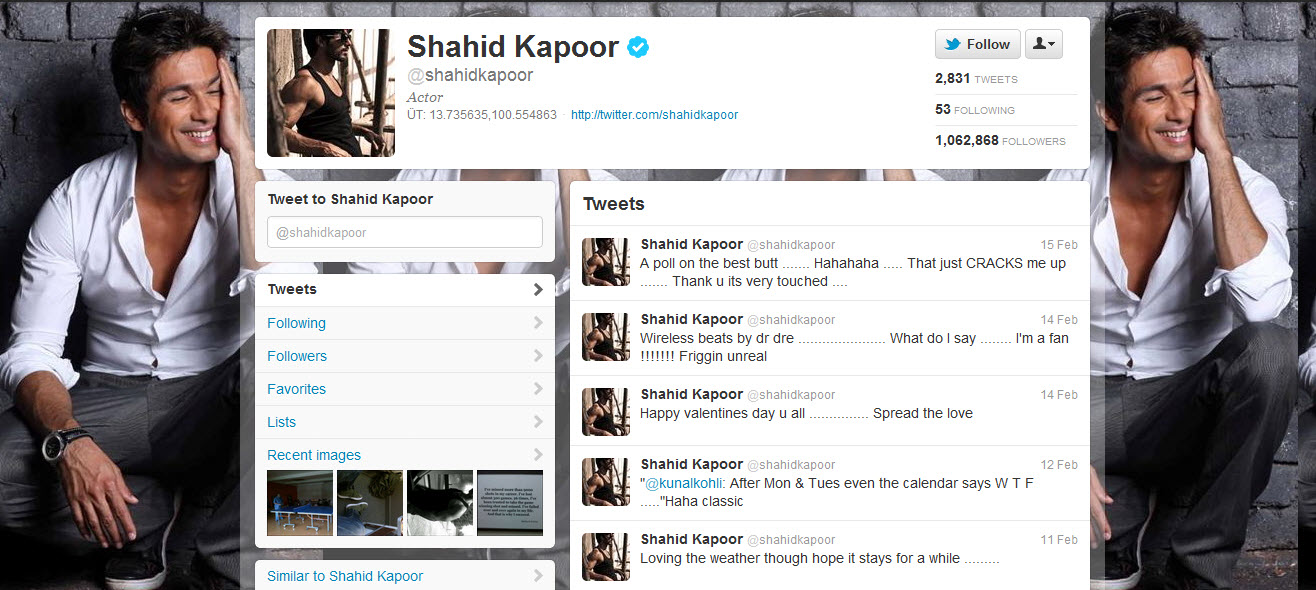 This Jab we met guy is also regular on Twitter giving lots of updates since March,tell regularly about status of his forthcoming film Kaminey, some fitness tips and something about his untouched life. More than 2200 followers. You can follow him on @shahidkapoor.
Mallika Sherawat: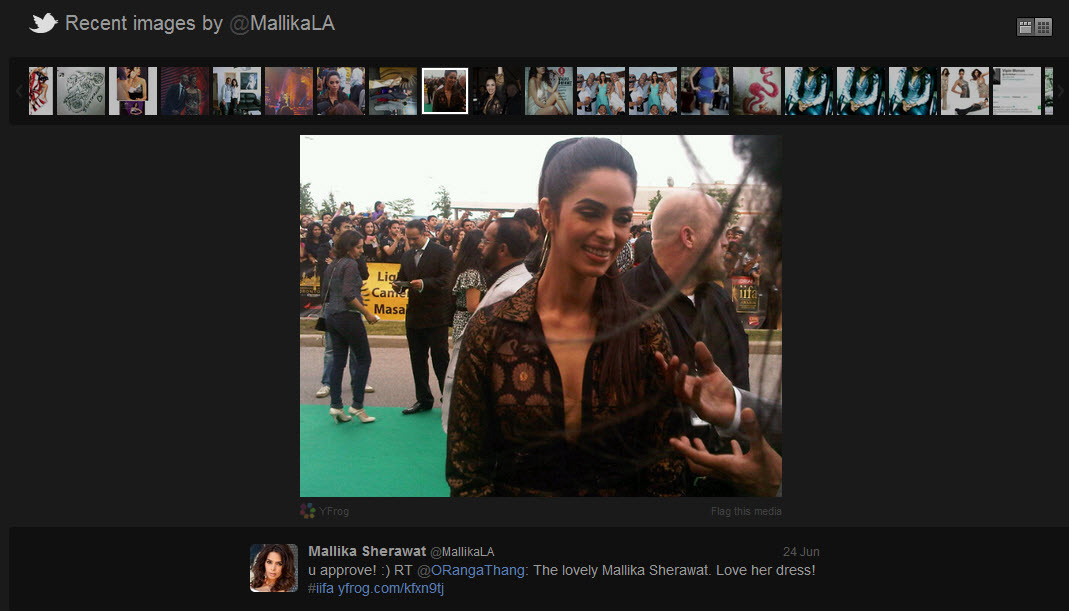 The most surprising part of the story that the sexiest girl in the bollywood using the technology to reach her fan following. She is regular on Twitter and you can know more about her and her forthcoming movie Hisss..This hot bollywood actress has more than 2.7 Lack  followers and more than 9K updates. You will be finding her tweeting lots of pictures and inside bollywood gossipy on Twitter. Interesting fact is, she also does sponsored tweets.You can follow her on @mallikaLA
Priyanka Chopra: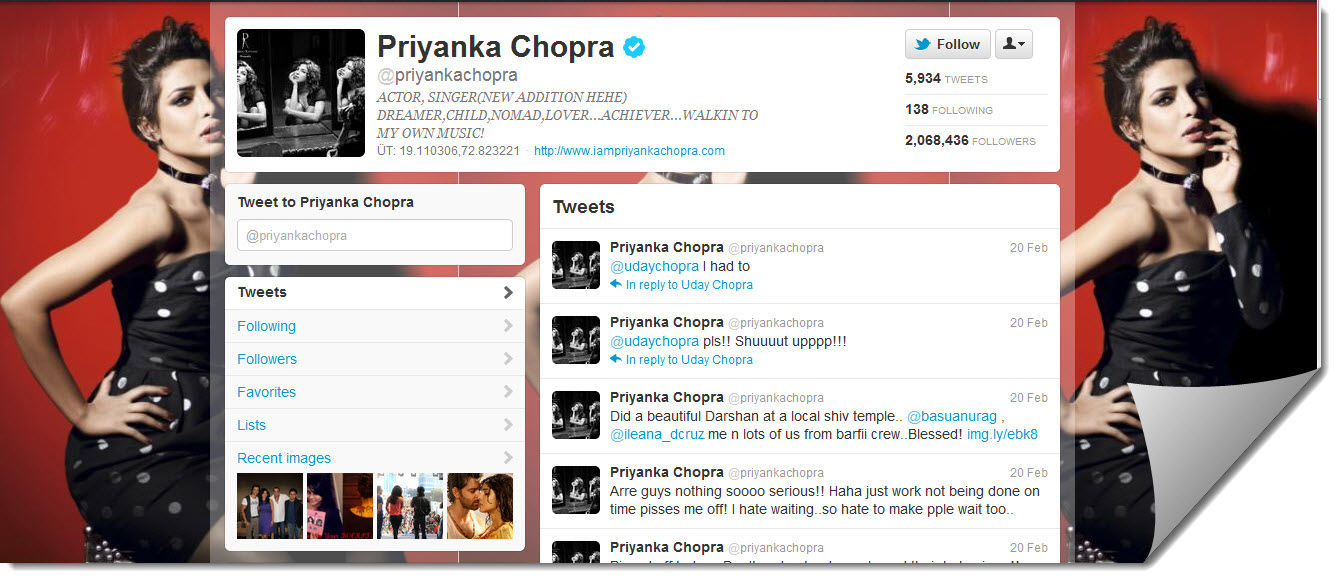 This fashion queen is another verified bollywood actress on twitter. With over 20lack follower you can imagine how popular this bollywood star is on twitter. You might spot her chit-chatting with Uday chopra on twitter. As a fan of Priyanka chopra, I'm sure her tweets won't disappoint you. Follow her @PriankaChopra.
Well if you do search on twitter, you might end up finding more bollywood Twitter users, but very few of them are verified. For example, Rakhi sawant is also on Twitter but her profile is not verified. So, I'm not listing any such bollywood actress Twitter profile which is not verified.
We will keep updating list after every couple months, you can follow us on Twitter @ShoutMeTech for instant updates.