With the way, Technology is changing from Windows Xp to Windows 8, one thing which remains the same is hunt for wallpapers. Windows Wallpaper are one of the most searched wallpaper and if you have not realize,  what role a simple background wallpaper plays in our life, probably Bing.com is best example, which changes your mood every day with new background.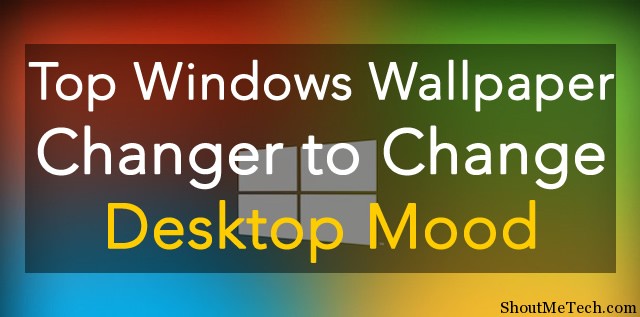 One can always download lots of desktop wallpaper from official Microsoft repo but as an evolving mind, we need something new every day and something more refreshing.  This is where these automation of desktop background kicks in and helps us. These wallpaper changer software, automate the complete process of changing wallpaper. Specially, when you need something new, vibrant and fresh wallpaper, betting on a software is easier choice. As these apps, downloads the windows wallpaper online, and keep rotating them on your desktop after regular interval.
Believe it or not, Artists are crazy about desktop background and that's why everyday we see some new graphic genius come up with a  creative background for our desktop.
How can Windows Wallpaper Changer can help you?
If you are a online worker who works on computer day & night, believe it your music and desktop plays a major role in your productivity. For me, Enigma tracks are best music while working and similarly a plain and simple background on my desktop. Background Wallpaper's defines your mood and most importantly your mood changes with your current wallpaper.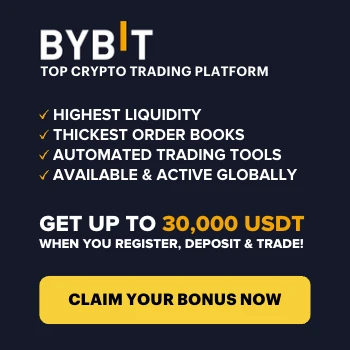 As it is, I hate monotonous desktop which doesn't changes for long and having a rotating wallpaper on your desktop, keep giving you feeling of something new. These Windows wallpaper changer software, does what we need to automate the process and let us concentrate on what we are good at: surfing online.
So, here in this post, let me share my pick of top software's which I use on day to day basic to automate the wallpaper change on my Windows 7 desktop.  Most of these software's will definately work with other versions such as Windows Xp but I have not tried and tested them with Windows 8, yet.
My Favorite Windows Software's to automate wallpaper:
1 . Color Desker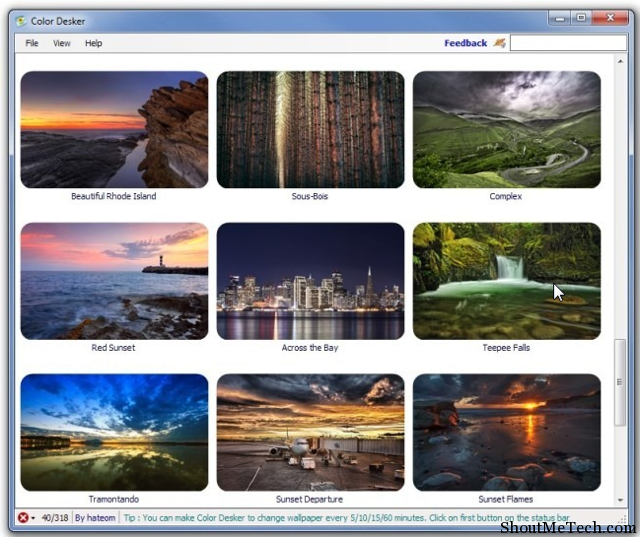 This automatic wallpaper changer software downloads and updates your desktop from an online library of 300 plus HD wallpapers. Color desker is a Windows program which can automatically change the desktop background in time intervals.  You can also set manual option to change the desktop wallpaper at your own will. The program after installation takes a few minutes to load all the wallpaper thumbnails on the first attempt. You can simply double-click or right-click and use Set as Desktop Wallpaper option to apply a wallpaper.
It works on Windows 7, XP and Vista.
2. My Daily Space Wallpaper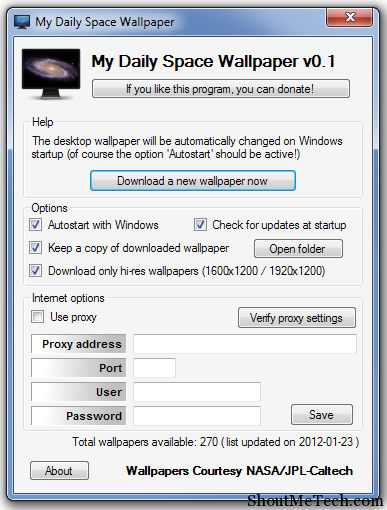 This set of wallpapers is based on the space theme. My Daily Space Wallpaper application downloads and applies new wallpaper each day. It also provides additional options like to save the downloaded wallpapers, download high resolution wallpapers, autostart with Windows (this option is useful, if you want to have a new background with every Windows startup) and set proxy settings, if you're using a proxy server.
Download My Daily Space Wallpaper
It works on Windows 7, XP and Vista.
3. Mourao  Wallpaper Changer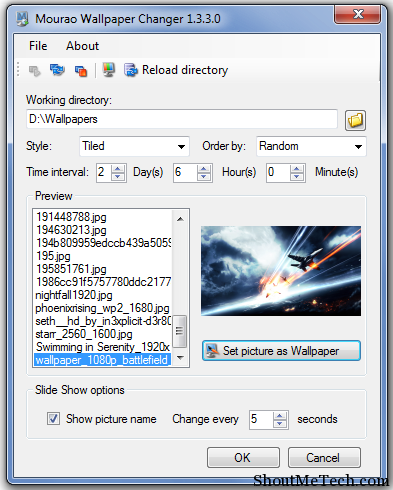 If you're using Windows 7, the maximum time allowed to automatically change a wallpaper background is one day.  Mourao Wallpaper Change is ahead of Windows 7 in this issue and it allows up to 7 days or a week.  The settings of this application have the following features.
First keep all the wallpapers you want to rotate or automatically change wallpapers in a working directory. Next you can select the style option to be Tiled, Centered or Stretched. Select the order criteria of wallpapers to be displayed from the working directory as Random, Ascending, Descending Names and Dates.  You can set the time interval between wallpaper changes in Days, Hours and minutes.  There is also Slide Show options with the option to show picture name and set the time interval between slides in seconds.
Download Mourao Wallpaper Changer
4. Kuvva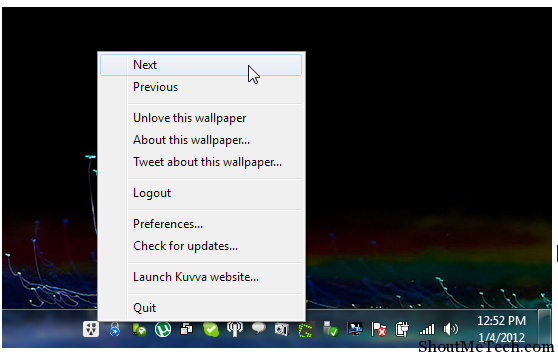 Kuvva app automatically downloads and sets new wallpaper each day from the website's database.  You can change your background everytime by hitting the next, previous button. This app also let you tweet about any wallpaper directly, which kind of adding social touch to it. I hope like Google they also integrate social touch and let users vote socially and decide the next wallpaper. To download the application you first need to register with the website.
5. Picturethrill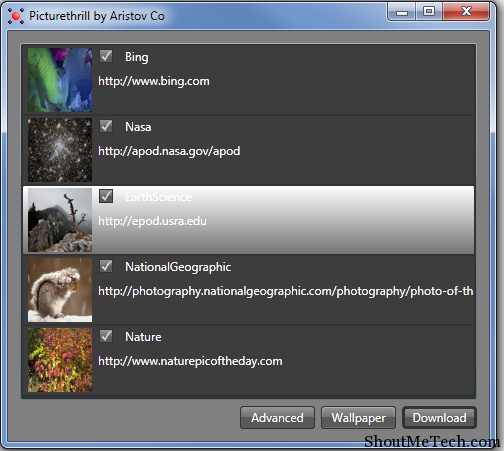 This is another open source automatic windows wallpaper changer that automatically downloads wallpapers from 5 different websites. Currently Bing, NASA, Earth Science, National Geographic and Nature websites are supported. Once you click the Download button, all the wallpapers from the 5 different websites are downloaded onto your local drive. You can see the thumbnail previews and when you double-click it, it is set as the default wallpaper. One of easiest way to download wallpapers on your desktop.
Color desker is my choice of software here to automate my windows desktop background, though I have tried to put all top one which I could find. I would love to know if you are using any of these Windows wallpaper changer software to give a new mood to your boring desktop?