Android marketplace is growing and one of the biggest threat to Android smartphone is it's prone to hacking. One of the simplest way you can make sure your Android Smartphone is safe by installing one of the best Antivirus app on your Android smartphone or tablets. If you have not done it yet, I suggest you to install one right away. The best protection starts when you have any one of these android anti-virus app installed on your device from day 1.
Securing your personal data from intruders has always been the top most priority. But one device which has the most information about you is your very own Droid. Securing it, can itself be a tough task. Considering the popularity and the usage of Android, the target of hackers is shifting from computers to Android powered Smartphones. We do all of our daily tasks like transaction of money, recharging our mobile, reading & editing official documents etc. from our Android, so securing it is very essential. But you don't have to fear!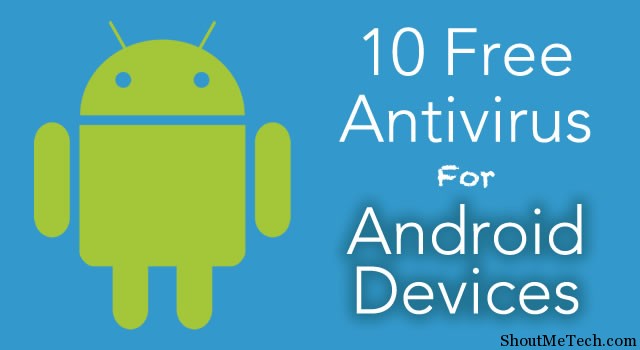 Here, I have drafted a list of Top Free Antivirus for Android devices which would ensure your device remains protected all time long and you feel relaxed about all the transactions done from your phone plus you'll feel relaxed that your personal data always remain protected.
Best Antivirus App for Android Devices
Antivirus Security by AVG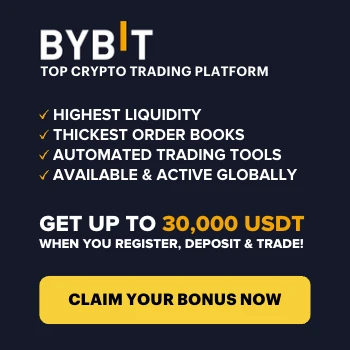 Everyone has heard of AVG! Right? AVG is one company which provide antivirus, anti-malware and anti-phishing software for Computers and now Androids too. The app comes in two flavours, one being the free version and other being the pro version. The anti-theft feature of the app is a really good feature provided in both free and pro version of the app.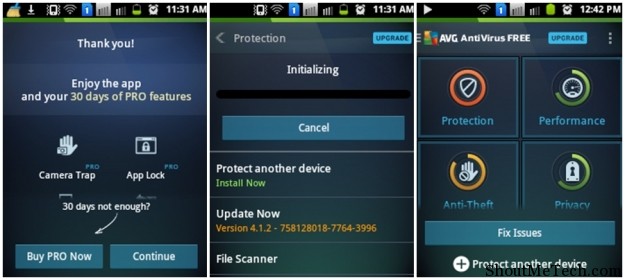 The free version provides with some basic set of features which I found are sufficient for anyone. However, pro-version provides some extra added security like sim locking, app locking, taking backups and definitely provides a great advantage over the basic free version of the app. However, I would say go for pro features, if you really need them. Download Antivirus Security by AVG
BitDefender
Another antivirus software company's name, which is well-recognized by Computer users. Good news is, they now provide security for Android too. There are many flavours of BitDefender app, but I've used Bitdefender Antivirus Free.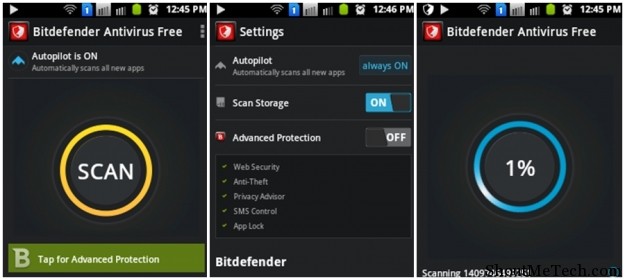 One thing I liked the most about this app is, it's very light and supported for older Android versions too. This app provides anti-malware, ant-phishing and anti-virus scans to fully protect your phone. It comes with a relatively decent UI and performance. The usage is fairly easy, just install it, scan your android device and stay safe. It would take care of everything for you. Download Bitdefender Antivirus
 360 Security Antivirus Free
It really offers 360 protection for your device with features like Memory Booster, Cache Cleaner,  anti-theft, phone cleaner, SMS and call blocker and much more.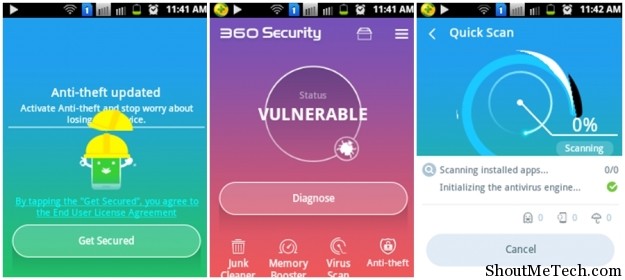 This app presents a fantastic UI and offers protection by automatically scanning on the first run, each new application you install. You can get rid of all the trash and residual files which often occupy unnecessary space on your device with just one tap. Download 360 Security Antivirus
Dr. Web v.9 Anti-virus Light
Extremely light antivirus app for androids which includes comparatively smaller signature updates and is very beneficial for those who always struggle with limited data plans. Along with all this, it offers full scan, quick scan and custom scan to scan specific files user wants to scan.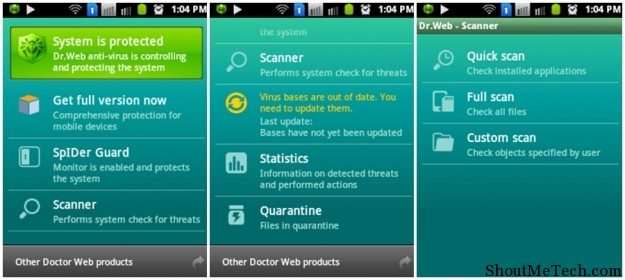 It offers a unique feature which is "Removing Locker Ransom-ware". Because of recent cases of crackers, hacking android and demanding ransom to be transferred to give people access to their own data; this feature claims to protect device from any kind of such attacks. Download Dr. Web v.9 Antivirus
Kaspersky Internet Security
The free version of Kaspersky comes with very basic features which includes essential anti-virus protection features. However, the paid version offers features such as anti-phishing and cloud protection which is definitely a win.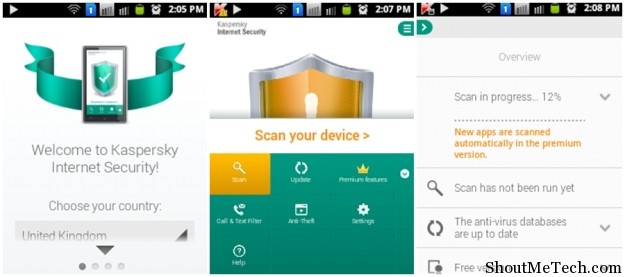 This app is a strict NO for mid range devices. I found the app lagging in lower-end devices. It doesn't offer real time protection against virus and malware in it's free version unlike other antivirus mentioned above. Download Kaspersky Antivirus
Antivirus and Security | Lookout
Along with security features like anti-virus, anti-malware & some restricted features of backup and anti-theft; this app offers a tremendously useful feature, which is saving the last location of droid when battery is critically low. You need to register an account for using the app.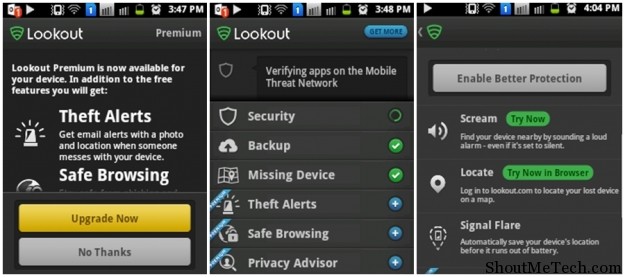 This app comes pre-installed with most of the phones and is one of the best app out there in the market, however, the notifications pop every now and then which is sort of irritating for many. Over all, this is a good app to protect your android. Download Lockout Security and Antivirus
Norton Security and Antivirus
Norton is a name in field of antivirus security which requires no introduction. I've found that the free version of the app provides pretty basics feature like removing malware and viruses, which slows down the device. Another good feature in free version is remotely locking phone via SMS. One only gets 30 days free access to the app.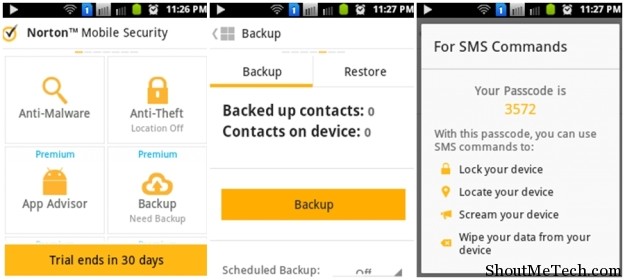 An awesome feature I found in this app is what they name "Sneak Peek" which would take photograph of anyone who's using the phone when you list it as lost or stolen. Free version offers very limited features and I found small lag in my device using Norton sometimes. Download Norton Antivirus
TrustGo – Antivirus & Mobile Security
Very standard and simplistic app, which presents basic anti-virus, anti-malware features along with secure web browsing and some data backup features. It is not very well known, but because of it's simplicity, many people like it.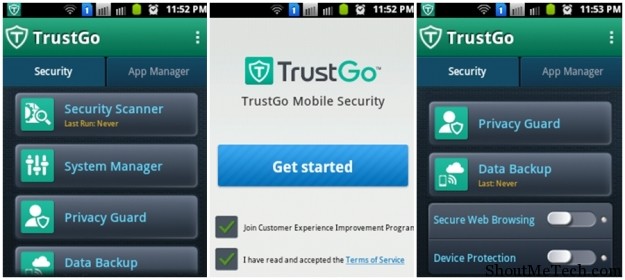 Without any extra cluttered features, this only presents with essential features. This app also allows a feature known as "Candid Camera Thief ID" which simply takes photograph of anyone who entered wrong password three times in a row and email that photograph to the owner. Download Trust Go Mobile Security
Avast Mobile Security and Antivirus
Another well known name in security world. It provides a variety of features like privacy report, network meter, firewall, secure web browsing, app locking, backup along with SMS and call filters.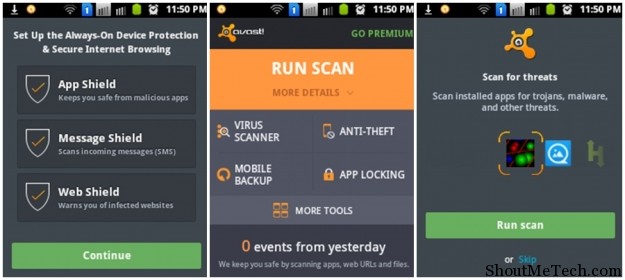 Overall this is a good app, providing with a lot of security features. It is well recommended for rooted phones. It provides a lot of features in the pro version as well than any other app listed above. Being a little heavy, older phones may face a problem with this app. Download Avast Mobile Security and Antivirus
CM Security AppLock & Antivirus
Now, take my words for this. This is the 'best app' out there providing you with an absolutely free package of rich features; many of which are paid in other apps. This is highly popular app and possess a very good rating too.
Along with basic features for anti-virus, anti-malware, this app comes with anti-theft feature which can be integrated with Google Maps, scream mode etc.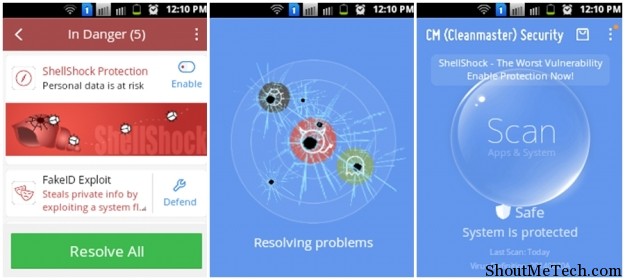 Everyone loves this app because this is very light weight and supports older phones too. So, this would be the best deal out there to protect your android. Download CM Security Applock and Antivirus
---
I hope these Antivirus android apps would help you in ensuring good security for your phones and always keeps you relaxed about any illegal access to your personal information. If you are using any other app which is working out the best for you, let me know via comments. Don't forget to share this article with your family and friends who are using Android devices, as their security is your responsibility too.