A proxy is an intermediate, that lets an user access content on the internet, while hiding their IP address. Some websites on the internet require a specific ip address to work and thus a free online proxy will let you gain access to such websites. Online proxies hide your original address and use an anonymous address, which lets you access blocked content on the internet. It can also be used to browse the internet anonymously to maintain privacy, anonymous browsing and security.
Free Online Proxy

Some countries around the world, don't allow access to certain websites such as Facebook etc. The same is the case in many IT firms and other big companies, where employees are not given access to such websites. In such cases, you can use one of the following free online proxy servers and access those websites without anyone knowing or finding out your ip address. There are many such free proxy websites available on the internet and new ones keep popping out every day. Learn about Proxy Servers.
At times, we do get some proxy site for specific purposes. For example, when China Blocked BlogSpot couple of years back, specifically Proxy for BlogSpot blogs came into the picture. In fact, I'm more fan of such dedicated proxy sites because they are more optimized and more secure.
This is a known fact that VPN's are more reliable than proxy websites. Here are some of the best VPN Services that will let you access any unblocked websites: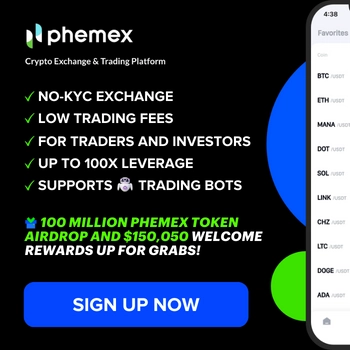 Most of these free proxy websites go down in a matter of time due to heavy traffic or other such reasons, thus aren't very reliable. But, here are 10 free online proxy websites, which have been online from a very long time and will provide you with the best services.
Top 10 Free Online Proxy Websites:
HideMyAss


This is one of the oldest free proxy site of internet. You can configure various options including selecting the proxy server location. At the time of writing, they offer free proxy servers from U.S, U.k, And Amsterdam. To access server location settings, click on Advanced options and select the server. You need to scroll down on the homepage to access their limited web proxy service. You can also look at their VPS service which is great way to hide your identity and access internet anonymously.
Link: http://hidemyass.com/
Jumbo Proxy

Another free online proxy website that you can try out. This website is up all the time and gives you unrestricted access to Facebook, MySpace etc. Surf the internet from anywhere.
Link: http://www.jumboproxy.com/
Zend2

A very famous proxy website. Comes with options such as Encode URL, Remove Scripts etc to make your browsing experience even better. Try it out for free.
Here's the link: http://zend2.com/
MegaProxy

A simple proxy website. Just enter the website address that you want to access and hit Surf. Easy and quick. If you want more features, you can also try the pro version.
Proxy Site Link: https://www.megaproxy.com/freesurf/
Proxify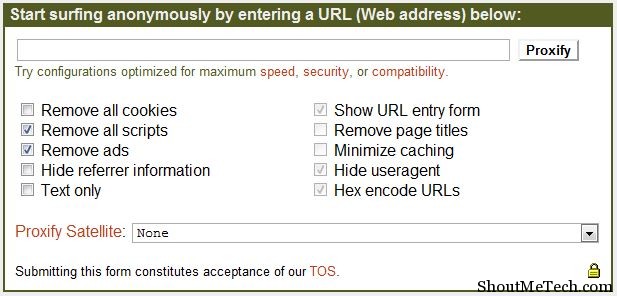 A pretty good proxy server. Gives you plenty of options and even the ability to choose your own server. It works great for a free website and I personally haven't encountered any downtime on it. Worked every time.
Link: https://proxify.com/
BoomProxy

A quick proxy website for people who just want to visit a blocked website and don't care about anything else. Simple enter the address and you'll get access to any blocked website.
Here's the link: http://www.boomproxy.com/
DontFilter

A US proxy website, good for accessing any website using an American IP address. Again, a very simple and fast website to access blocked websites.
Here's the link: http://www.dontfilter.us/
The Proxy Free

No beating around the bush with this free proxy website. Just plain simple access to blocked websites, essential for people who don't know what the options usually are for.
Here's the link: http://www.theproxyfree.com/
Prox Easy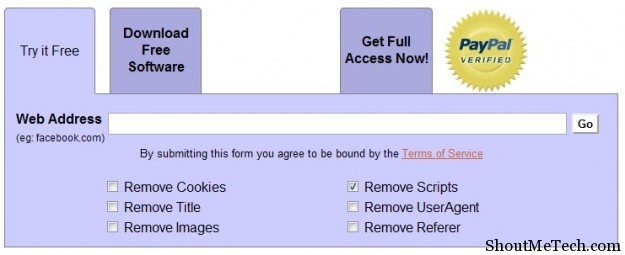 A free proxy service, like many others in the list, but also has a paid version with some extra features. I would, however, suggest that you stick with the free service, because it works fine. After all, you just want to access blocked websites!
Here's the link: http://www.proxeasy.com/webclient.aspx
Make Me Anonym

The name of the website is enough to tell you what it does. It makes you anonymous and lets you access blocked websites from anywhere in the world. Again, a very very simple service!
Here's the link: http://www.makemeanonym.com/
That's not the end and there are many Proxy software's like UltraSurf, Your-freedom, JAP are also helpful, but online sites to unblock Blocked Websites are easy to remember and can be used in most of the environment. Though, in some of the servers there are hardware based firewall are installed, which blocks every proxy website and in such case it's always a good idea to head towards proxy software's or VPN solutions. We will talk about it in upcoming posts but for now, don't forget to join us on Facebook.
Those were the top 10 free online proxy that we would suggest you to try out, if you were imprisoned by laws in your country and aren't able to access Blocked or censored websites.