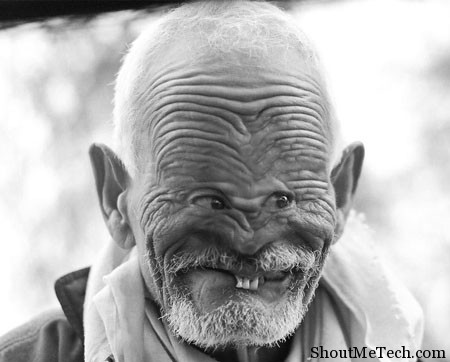 The internet is an amazing place and for more than one reasons. You can do almost anything if you have an internet connection. Learn and gain knowledge, earn a living, keep in touch with friends, meet new people, start businesses, start websites, waste time and much more. I'm not going to tell you how to go about doing any of those, but I will let you in on some of the most fun websites on the internet that can help kill your boredom.
When you're working really hard and want to take some time off and refresh, these fun websites will come in very handy. It's always good to take some time off and have some fun, laugh out loud and talk to people. Well, people these days, are just a phone call away. So, let's just talk about some of the websites that you can visit to make yourself feel refreshed and happier. Someone once said, Laughter is Medicine, and it indeed is. I'll be talking about 10 such websites that will make you smile/laugh and cry no matter what.
 10 Awesome and Fun Websites
Break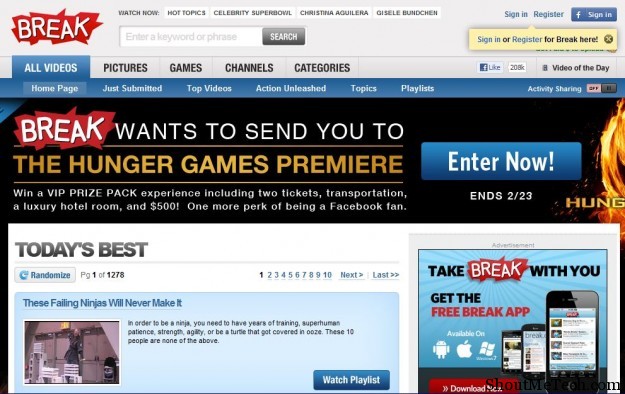 Break Media is one of the largest websites to watch funny videos, short clips and pictures. And the name of the website is enough to know what it does. It gives you a break from whatever it is that you were doing, so you can have a laugh and relax. They have loads of videos, funny pictures and even some online games that you can waste time on and not get bored. Break Youtube channel is quite famous for funny videos and here is one such video from their Youtube channel.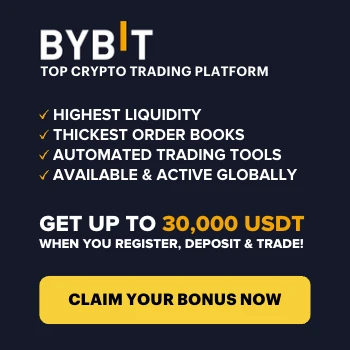 9GAG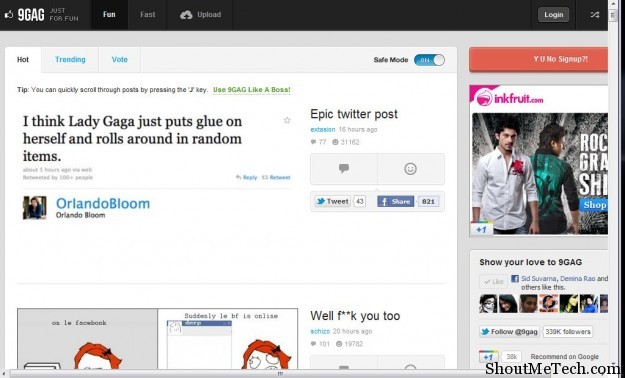 9GAG, a website that mostly displays only pictures that are either insanely funny, stupid or plain sarcastic. The website was started in 2008 and rose to fame in the recent times. The website displays 9 posts on a page, which are known as gags, hence the name 9GAG. If you're bored and want to have a good laugh, but not watch videos, then this is the website to visit. Trust me, you'll have an amazing time here.
CollegeHumor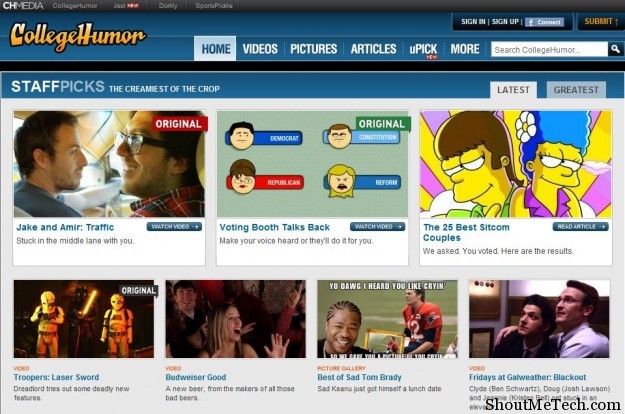 If you like funny and hilarious original videos, then you must have already heard of CollegeHumor. They are known for making original and parody videos on various subjects. They've also got a good collection of pictures and humor art. But, the most amazing things found on the website is definitely the original videos. Watch them and you'll end up watching them over and over again. Like Break.com YouTube channel, College Humor YouTube channel is epic and will make you watch unlimited fun videos for free. You can check out their You-tube channel here. Though, some of their videos fall under the category of NSFW, but as far as I know, you will not find any nudity in them.
iGod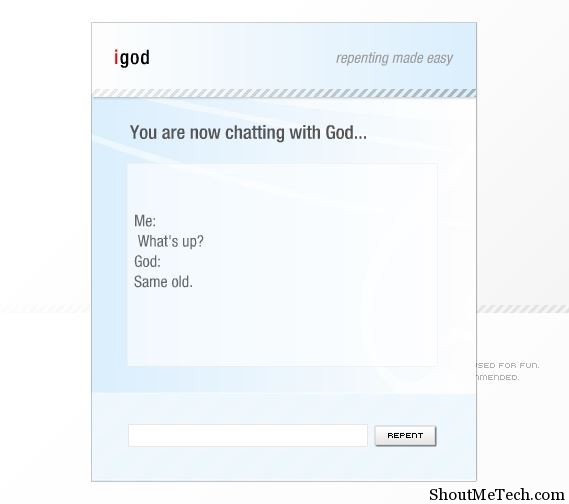 This is an automated bot that pretends to act like the Holy God. Yup, iGod is an automated chat client that is funny, witty and sometimes crazy. You got to try this one out. The tagline of this bot says 'Repenting made easy' and it's a 100 percent true. You can ask God various question and get really funny and crazy answers. You can even repent for your sins, but remember, you will not be forgiven!
LameBook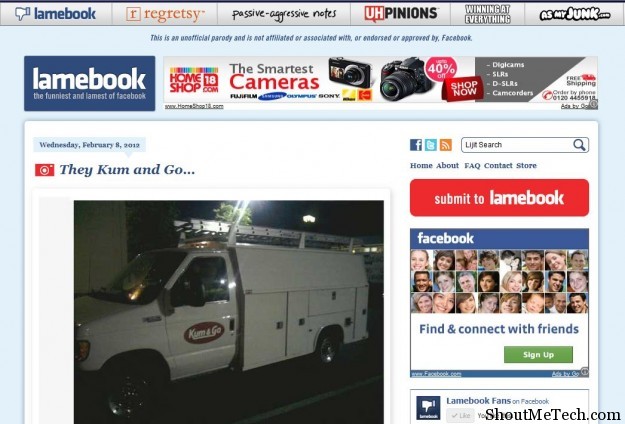 LameBook is very closely related to Facebook, but not in the way that you're thinking. Facebook is completely against it, but thanks to the millions of users of the website, it's still running. Lamebook basically brings all the funny Facebook statuses, photos and comments together on a single website. Only the funny and stupid ones are allowed here. One of the  best fun websites for Facebook lovers.
Lambook iPhone app is also very famous and the best part about this Facebook fun site is, it's based on user generated content and if you are seriously looking to see some funny images which can make you fall from bed, yes Lamebook is something that you can subscribe right away.
Fail Blog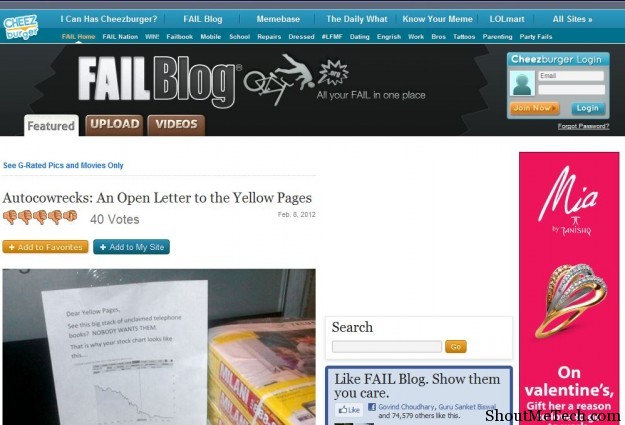 This is where are all the epic fails of the century go! Fail Blog features content from everywhere added by it's hundreds of users and almost all of them are funny. Well, everything that fails becomes funny automatically. The website consists of lot of such fail pictures and also videos that will certainly lighten the mood.
Here is one fun video that I found on Fail Blog:
Comedy Central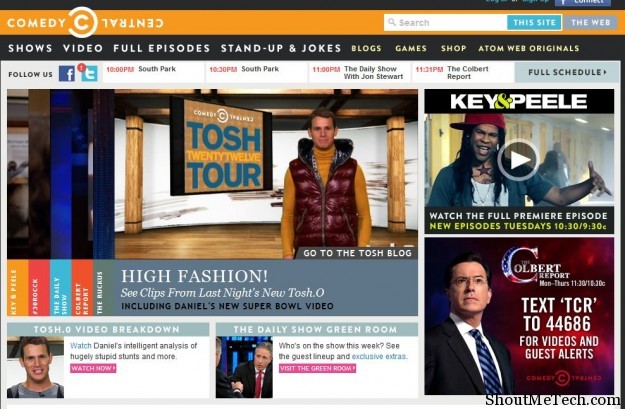 Comedy Central is just like CollegeHumor, but older and have much more original and funnier content than the latter. They have many online streaming shows and a hoard of funny videos. And if you didn't already know, this is also a big American TV channel that airs many other original and syndicated shows from other international networks.
The Mobile Tracker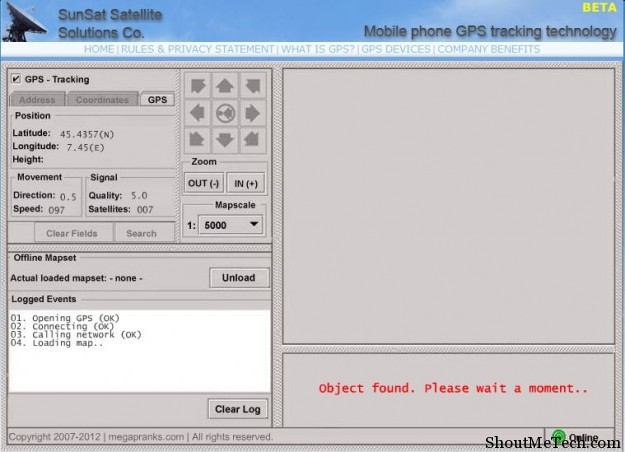 A really funny website, but in a non-conventional way. When you first try it out, you'll be amazed to see how a mobile phone can be tracked using satellite and the GPS. But, this is a very cleverly disguised prank that will actually get you fooled. Oops, I shouldn't have said that. Just select your Country and type in your mobile number and hit search. Try it out now!
Clever Bot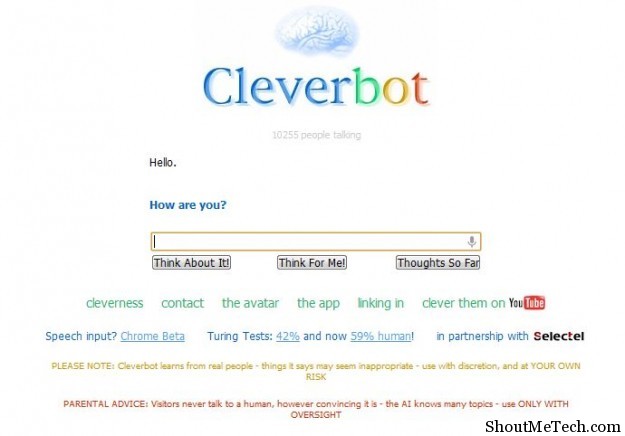 Another bot like iGod, but this one doesn't pretend like it's God and you can't repent your sins here. Cleverbot is actually not funny, but fun to talk to. It is the a super clever AI system that learns from people talking to it, so if you say Hello, the bot will reply with 'How are you?'. Give it a try and don't forget to ask it silly and stupid questions too!
Instant No Button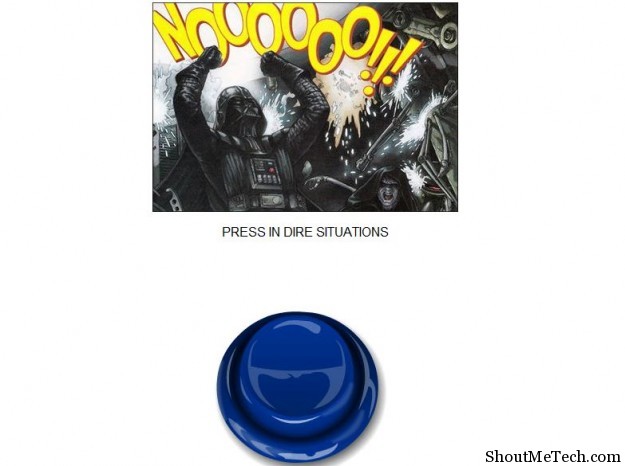 This website has no pictures or videos or any content at all, but it will certainly make you and your friends laugh every time. No is for times when something funny, ridiculous and horribly funny happens and you want to scream Noooo! Just head on to this website and click the button that says 'PRESS IN DIRE SITUATIONS' and enjoy!
Fun websites like the ones I mentioned above can be found in plenty on the internet. But, I don't believe you're need anymore websites to make the day better, for you and for others. If you do know anymore websites that can be added to this list, do let us know. I know a few more, but I found these 10 to be the best. Remember to always have a good time, but avoid addiction.