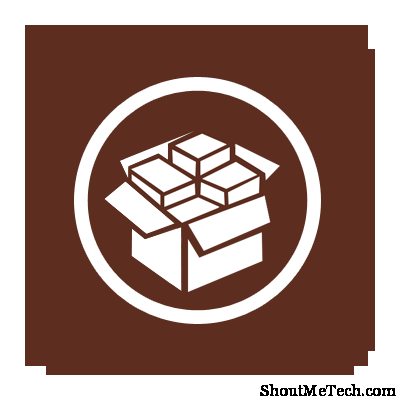 If you are an iPhone users, you might be aware of jailbreaking and unlocking. For the newbie, Unlocking is let your iPhone work with any Network operator and where as Jailbreaking is the process of removing all limitations and install premium apps for free.
Once we jailbreak out device, we get an option to Install Cydia. So far, jailbreaking is legal, but it does void warranty of your iOS device. Cydia is an app for jailbroken iOS device, where you can download various tweaks and utilities. Cydia is developer by Jay freeman who is popularly known as @Saurik. These tweaks and utilities are download from various Cydia sources. For example, hackulo.us holds Installous, iSoftjsc.com repo holds Sara which is a Siri alternative. Here I'm compiling a small list of sources for Cydia, which you can consider adding into your Cydia sources and get more apps for your iPhone. Well, most of the apps on Cydia are free but there are many paid one which you can buy using PayPal.
The first thing to do after you jailbreak your device is to add sources or repositories to Cydia. Without these sources, you will not be able to enjoy any of the advantages of a jailbroken iPhone, iPod Touch or iPad. Although, Cydia does come pre-installed with 2 or 3 famous sources like BigBoss, ModMyi and Telesphoreo. So let's start of with the other essential and useful repos that you may need at times. Here are 5 of the best sources for Cydia that will help you find some amazing tweaks, themes and more.
How to Add New Sources for Cydia
Adding a repo source in Cydia app is fairly easy. After Cydia is installed, launch the app, choose if you're a User, Hacker or Developer. The first time will take some time to load. Once it's ready, click on the Manage button located on the bottom. Now click on Sources and you'll be taken to a page that shows all the installed sources.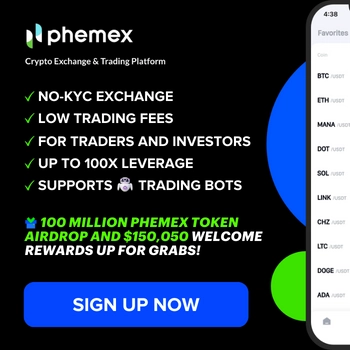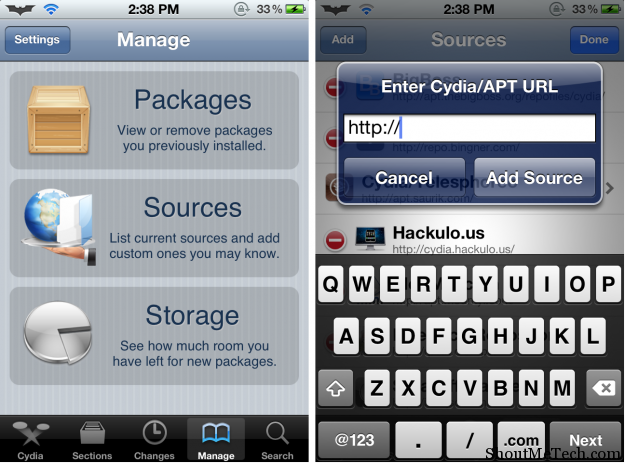 Select Edit>Add and a new dialog box should appear with a space to add one of the following repos. Type in the address and within no time the repo will be installed. You can now access all the files inside an installed Cydia repo and have fun modifying and customizing your iOS device with awesome themes, wallpapers, tweaks, extensions etc.
5 Best Sources for Cydia
Hackulo.us Repo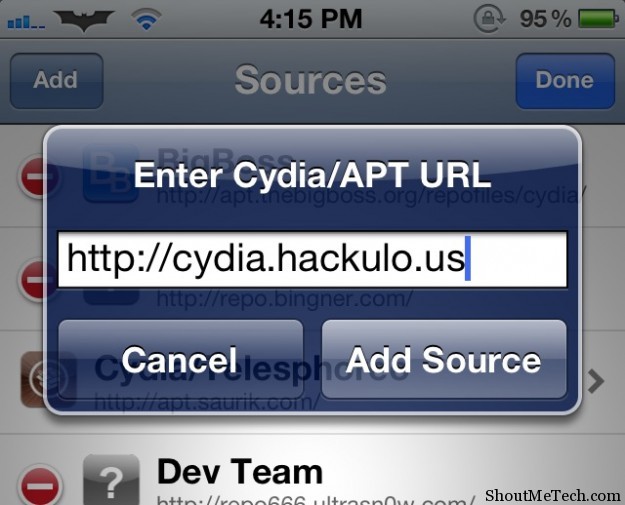 One of the most searched sources for Cydia. It doesn't consist of a lot of apps, but it has one important app that all jailbreakers need. Hackulo.us repo brings Installous and some other useful tweaks to your iOS device. With the help of Installous, you can download any paid app from the app store for free.  To add Hackulo.us repo go to Cydia>Manage>Sources>Edit>Add: http://cydia.hackulo.us
iPhoneCake Repo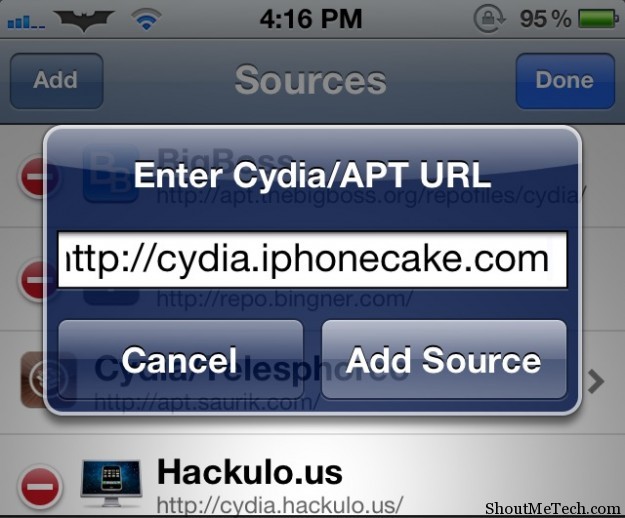 Want to try out some free and famous games that are otherwise very expensive to buy from the app store? You should give the iPhonecake repo a try.The repo includes popular games such as Need for Speed, Asphalt, FIFA and more. It also has a good collection of some small games that you won't normally find on the App Store. You can add iPhoneCake repo to Cydia from Manage>Sources>Edit>Add: http://cydia.iphonecake.com
Sinful iPhone Repo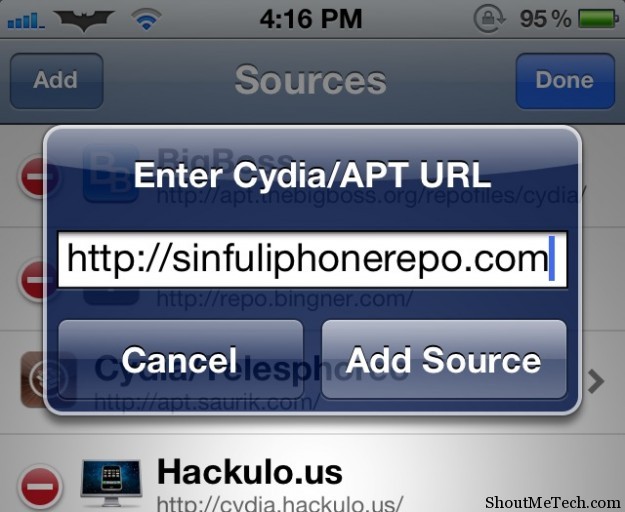 The Sinful iPhone repo is another source that you should add to Cydia, because it contains a lot of themes, tweaks and extensions to customize your jailbroken iOS device. It's not as big and resourceful as the BigBoss Repo, but that's one reason why you should add this, as sometimes certain tweaks only appear in this repo. To add Sinful iPhone Repo go to Cydia>Manage>Sources>Edit>Add: http://sinfuliphonerepo.com
iSpazio Repo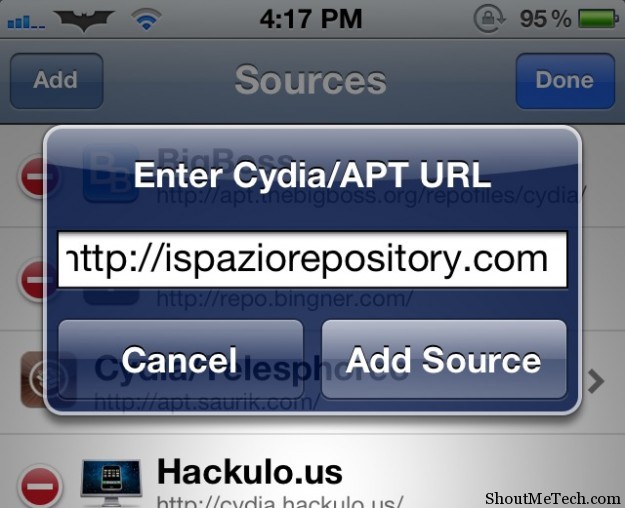 iSpazio repo is from Italy, which means that you'll find a lot of italian tweaks and mods. But, the repo does have a lot of  international apps, themes, wallpapers and games. I would highly recommend that you add this repo to your sources, because sometimes what you find here you won't find anywhere. To add iSpazio Repo, launch Cydia and go to Manage>Sources>Edit>Add: http://ispaziorepository.com
iModZone Repo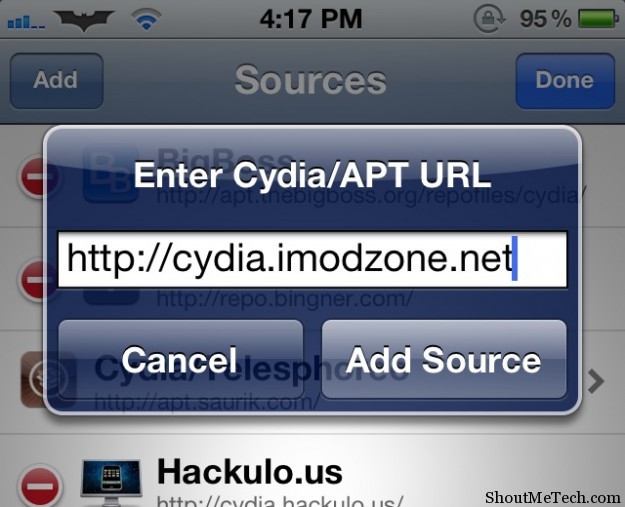 Lastly, the iModZone repo has an amazing collection of wallpapers, themes, slide to unlock mods, lockscreen themes and more. This repo is for all your theming and wallpaper needs. Whenever I need something new, specially wallpapers and themes, this is the repo that I check out. To add iModZone Repo, launch Cydia and head over to Manage>Sources>Edit>Add: http://cydia.imodzone.net
Though we have covered 5 Cydia sources here, here is another list of top 10 Cydia sources for 2012, and this might pimp up your mobile with tons of unlimited jailrboken apps:
Well that's all the important and useful repo sources for Cydia that you should have on your jailbroken iOS device. The repos give you tweaks and extensions that Apple don't and help you unlock your iDevice's full potential. Let us know if you faced any problems with any of these repos, as sometimes they just seem to not load. Install and find out!