It doesn't come as a surprise that whoever owns a mobile device wants to have a ringtone that sounds different from the rest. I am an iPhone user, and you can't believe how many times I had to change my ringtone because I heard another person playing the same ringtone on his or her device. It didn't matter which ringtone I had selected for my iPhone, sooner or later I would end up listening to the same ringtone playing from someone else's device.
I think companies know that we all want to have ringtones that are different from the rest, and that is why there are many websites and apps that enable people to create their own ringtones. You can easily find iPhone ringtone maker apps from the App Store; however, not all of us are able to pay for them. Not to worry as here I will be telling you about 5 free iPhone ringtone maker apps, which can allow you to make a ringtone for your iPhone!
4 Apps to download free iPhone Alert tones and Ringtones:
Ringtone Maker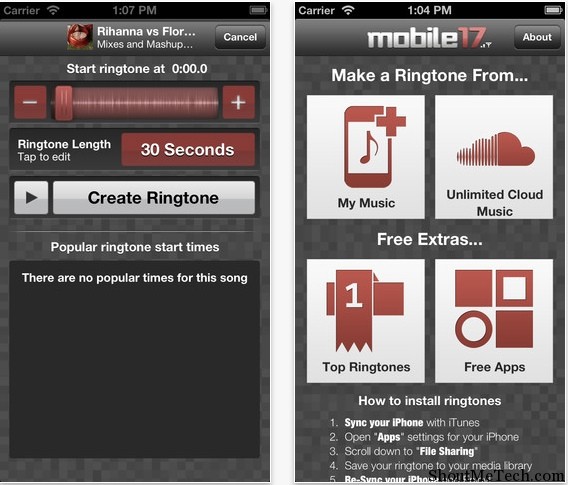 Ringtone Maker is a free app by Mobile 17, and it is different from other free ringtone apps because it allows you to make ringtones which are up to 40 seconds long. This app doesn't come with a catalog of preset ringtones; however, you can create your own ringtones from the music you have in your iTunes library. A good thing about this app is that it has a feature which automatically shows you popular edits from other users and even shows you related tracks, when you select a song from your iTunes library. This feature helps in saving your time when you want to make a ringtone for your iPhone. There are ads present in this app, as it is free, but you can get rid of them by upgrading to the paid version for US$0.99.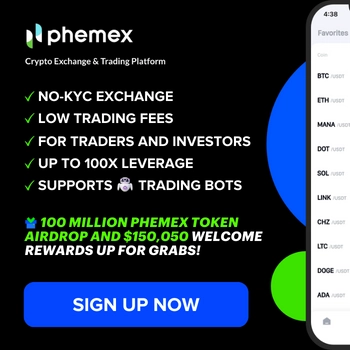 This app can work on any iPhone running on the iOS 5.1 or later.
Myxer Ringtones
The good thing about the Myxer Ringtones app is that along with allowing you to make your own custom ringtones, it also has a catalog of existing ringtones which you can choose from. There are many good ringtones present in the catalog which this app provides you with. You will easily find a popular song that you like and want as your iPhone ringtone. The ringtones have been divided into categories like: pop, dance, jazz and rock, etc. It also has comedic ringtones, alarms, animal sounds and alerts.
When you are creating a ringtone from your iTunes library then the song is displayed to you on a graphic, and this helps you in selecting the right areas which you want as your ringtone. You can make ringtones that last up to 30 seconds. Though this is a good free iPhone ringtone maker app, however, the process of downloading ringtones can be a bit difficult as you have to enter your phone number, then go to the website on your computer, enter a personalized code and then download the ringtone you want, and then you have to sync them with iTunes. When you make a ringtone from your music library, your creation is emailed to you, and you can save it on your computer and transfer it to your iPhone.
This app works on any iPhone running on the iOS 4.0 or later.
iPhone Ringtone Convertor
Ringtone Convertor is another free app which you can use to make unlimited ringtones for your iPhone. This free iPhone ringtone maker app allows you to make ringtones that run-up to 30 seconds from the music files you already have in your iTunes library. Once, you have created your ringtone you'll need to sync with iTunes to get it on your iPhone. The good thing is that you can make as many ringtones as you want and then transfer them all at once.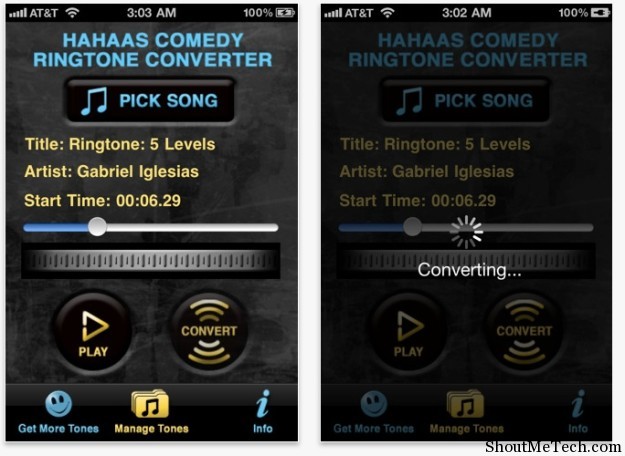 This app is compatible with the iPhone, the iPod touch and the iPad. You will need the, iPhone OS 4.1 or later to use this app.
Ringtone DJ
Ringtone DJ  is another free iPhone Ringtone maker app. When you launch this app, you will have to decide if you want to make a 40 second long ringtone or an alert tone of 8 seconds, and then you will have to select a music file from your device's music library. However, keep in mind that this app can't convert DRM'ed songs. Then you will be directed to the app's tone editor screen. You will see the soundwave of the song, and you will have to swipe left or right to get to the section of the song that you want. With the help of the window, over the soundwave, you can capture different parts of the song for your ringtone.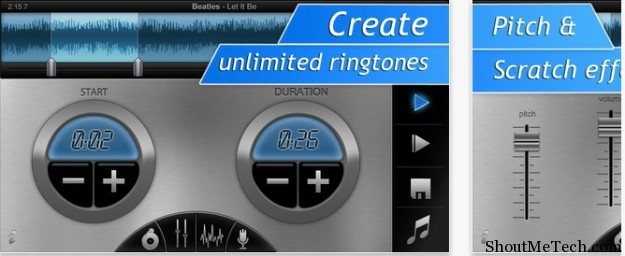 Though I found this way of capturing the song a bit difficult, the good thing about this app is that after you have the parts of the song you want, you can add effects such as record scratches and delays, etc. you can also record your voice over the music you have selected. Though you will have to pay for them, and you can get all the features for just $1.99.This app is for iPhone, iPod touch and the iPad running on the iOS 5.1 or higher.
Also see: Best websites to download iPhone ringtones for free
So, there you have it, I have provided you with 4 free iPhone ringtone maker apps which you can use and create your own ringtones. It's always good idea to customize your iPhone tune to something of your choice, instead of using default iPhone ringtone.