Alibaba, as most of you know, is a wholesale supplier website where you can interact with and purchase from suppliers all over the world.
AliExpress is another offering from Alibaba. It is an online e-commerce store and acts as the retail arm of Alibaba.
Although Alibaba is a reputed company, the quality of the sellers is not always consistent. A lot of times people have been cheated or have gotten below-par products.
The best way to have a good experience from AliExpress is to prepare yourself.
Here are 10 AliExpress safety tips that will save you from being scammed.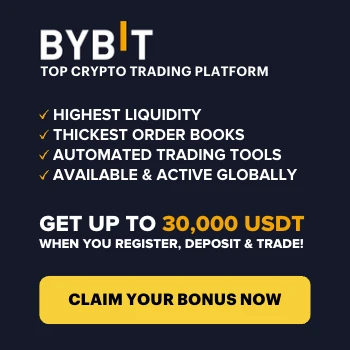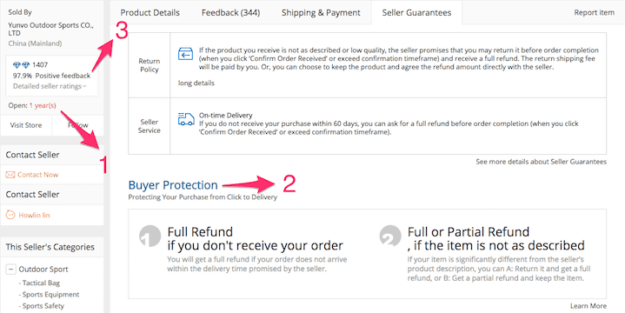 10 AliExpress safety tips To avoid getting Scammed
1. When was the store opened?
This data point tells you when the seller opened shop.
If it is over two years, then they have some credibility and, to a certain extent, longevity. If it has been open less than a year, their quality hasn't been validated yet.
So if you are making a very expensive purchase or a product that is technology oriented, it's better to go with an AliExpress store that has been around for a while.
2. The store's "Buyer Protection" policy
AliExpress has protocols within their platform to protect the buyer from fraudulent sellers as much as possible.

In the case of purchasing, it will benefit you to look at the "Buyer Protection" the seller has in place.
Every seller should have, at least, the following protections:
Full refund if you don't receive your order.
Full or partial refund if the item is not as described.
To find out more, check out the "Seller Guarantees" that the seller has in place (found in the product description area).
3. Star Rating and Review – Feedback
You likely already check out the rating and reviews.
A good way to sift through the reviews section is to select the "With Pictures" option.
A lot of buyers upload the images of their products and give reviews. This is a good way to validate if people are consistently getting the right product (and if they are happy with the quality).
You get the complete "Seller Feedback" page when you click on the diamond symbol in the "Sold By" section.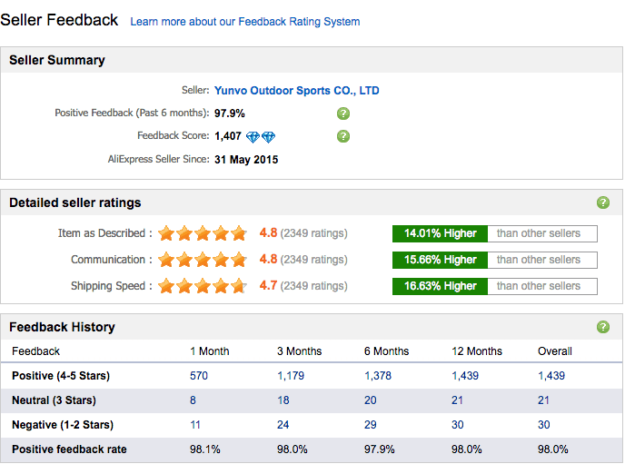 4. Last Purchased and Frequency of Purchase
The reviews come with dates.
Check the last reviewed purchase and if it is recent, then it's a good sign that people are buying it.
Also look at the frequency of the purchases, if it is consistent, then this is also a good sign.
If people haven't bought the product in the last 6 months, then it may be a red flag. Either the product isn't available or the store has shut down.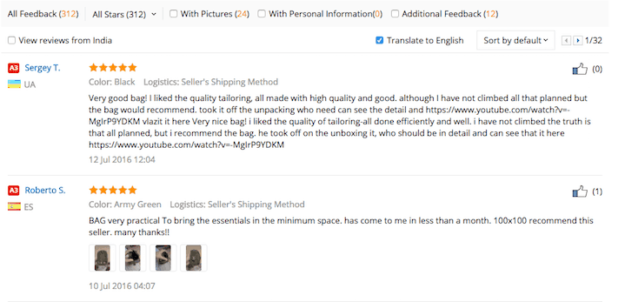 5. Contact the seller before you make a purchase
There's an option to contact the seller before you make a purchase.
Ask all the questions you need regarding the quality of the material, warranty, refund policy, and everything else you need to know.
Check whether their answers are consistent with what they have mentioned in the product page.
Note: A good seller will talk to you about the product in-depth and will not try to push the product onto you.
6. Items with a very low price may be counterfeits
Everything is made to look good in the AliExpress store.
If a product is at a ridiculously low price, be very careful because it just might be a fake.
7. Don't get "free shipping" for expensive items
Free shipping may be a tempting offer, but it's riskier for your product.
The free shipping option is fulfilled through the postal service and there are no guarantees regarding the way your product is handled.
If your product is expensive or breakable, it's better to spend an extra few dollars to get it delivered through a reliable service like DHL.
8. Customs and import duties may be charged
Goods coming in from China may be subject to import duties in your country.
This can amount to around 30% of the value of your product. This is very circumstantial though.
Your best bet is to use a tool like Duty Calculator that will give you an approximate value of how much the duty will cost.
9. Try not to open a dispute before receiving your product
Disputes at AliExpress can be tricky.
You have one attempt at filing a dispute and if you use that dispute because you haven't yet received your product, then you exhaust all your disputes before the product reaches you.
If the seller ships your product and closes the dispute, you cannot leave feedback either. So if your product is faulty, you cannot do anything about it because you've exhausted your disputes.
10. Use your product before confirming the receipt
There's an option to confirm the receipt when you receive the product.
Don't immediately confirm your receipt after getting the product.
Test and see if it is as advertised and works to your satisfaction. Only when you are satisfied should you confirm your receipt.
With these tips in mind, you should be able to purchase from AliExpress without any hassle.
What have been some of your AliExpress experiences? Have you ever been scammed? Let us know in the comments below.
If you found these safety tips useful, share them with your friends on Facebook, Twitter, and LinkedIn.