PDF files are one of the most preferred formats for documents and we have many software's which will let us edit and make changes in our pdf file offline. Have you ever got stuck in a situation where you need to edit a PDF file online, as you are travelling and away from your computer. I have been into this situation and most of the time, I use one particular web service which let me make changes into my pdf file online. Most of my tasks involve making changes like:
Removing pages from an existing PDF file
Cropping certain part of a PDF file
Adding few images and few more editing work.
Here I will be talking about one Web-service call PDFescape which let you edit PDF file online for free. The best part is, this web tool is very easy to use and you can quickly load and start making changes in your PDF document. Here I will also show you, how to use PDFescape to edit a PDF file and download it back.
How to use PDFescape to Edit PDF file online:
Go to PDFescape and upload any existing PDF file. You can upload a PDF file with maximum size of 10MB and pages less than 100.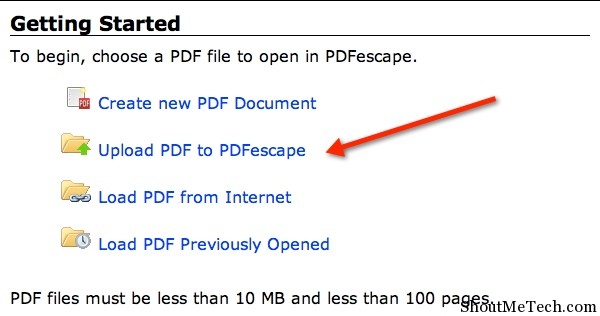 Once you have uploaded your PDF file, you get various option to edit your PDF file.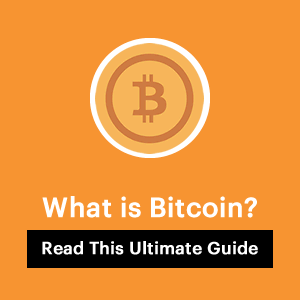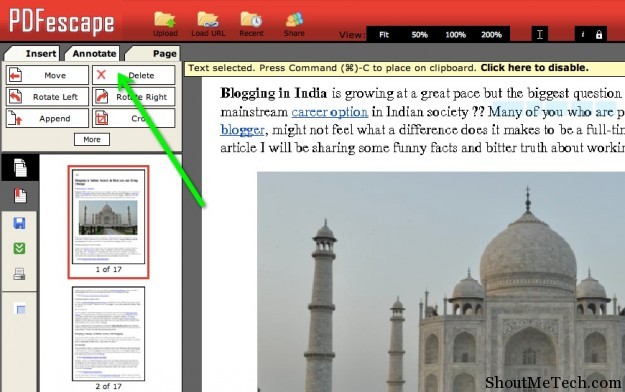 On the left top, you will get options like:
Insert, Annonate and page: Using these three options, you can edit your PDF file and make many changes like, delete pages from your PDF file, edit certain part and so on.
Once you are done making changes on your PDF file, you can click on Save icon on left bar. Once you are done editing PDF file, click on green download icon and it will download the PDF file on your computer, You can also directly click on print icon to take a print out of your file. I find PDFescape to be very useful free service for everyone, who are in urgent need to edit an existing PDF file quickly.
Let me know, if you need any other similar online Websites which let you PDF files online or any other desktop based software's.