We have already shared a lot about torrents in the past and today we are going to talk about one of the site which offers free eBooks torrent. I'm a big fan of eBooks and love reading them online or download it on my iPad and read it before sleeping. Anyways, many site offers their eBook in the form of torrent and many torrent sites are specially created for eBook torrent lovers.
Ebookshare.net is one of the few torrent website which is dedicated to download ebook torrents. Website has lots of categories for Ebooks and option to download them via Torrent or Direct download for free.
Some of the popular Ebook categories on Ebookshare are :
Gaming, Magazines, Web Development, Internet, Hardware.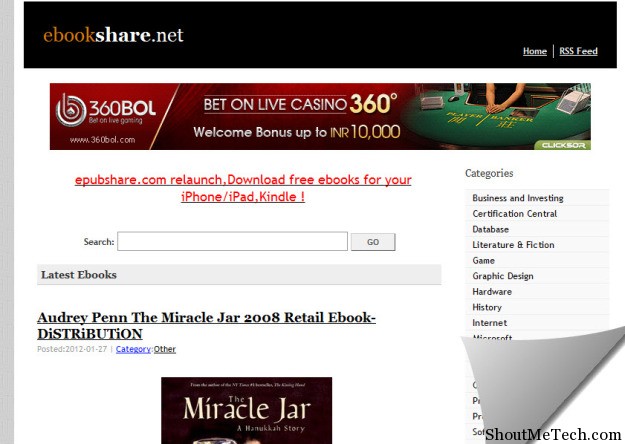 Interesting thing about this eBookshare.net is, it not only list torrents, but you can also read the description of the book. This way, you can also end up finding something new to read. You can also do a eBook torrent search, so you don't have to waste more time in picking your favorite torrent book.
Link : Ebookshare
In case if you are looking for more options, you should check out theeBooksbay where you can find many Apple E-Books.
Must know website: Btracks – check registration status of private torrent sites
Do let us know if you use any other torrent website to download eBook torrents?