If you live in India and have used IRCTC site to book a train ticket, I'm sure you know the pain that you share with millions of other Indian users. After this post, your pain will be little less as Indian Railways have an official Android app in the Google play store with the name IRCTC Connect. Such an official app is long-awaited by millions of Indians like you and me, and finally the app is out there which will let you do multiple things like book your train tickets, check PNR status, cancel your booking and few more. This is the first version of the app and I'm sure they will listen to the users feedback and improve the application in coming days.
To try and test the app, I have booked a train ticket and my experience was great. It's much better than booking from the official site. With Android app, now you can book your train tickets while on the move.
IRCTC Connect Android App: Experience and features
The app is free to download and you can download IRCTC Connect from official Google play store link here.
Once you have installed the app, you can use your existing IRCTC login ID to login to the app or you can quickly register yourself and create a new ID. In my testing, I logged in using my existing IRCTC ID and started booking my ticket.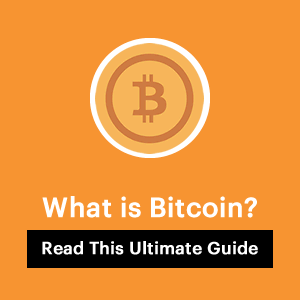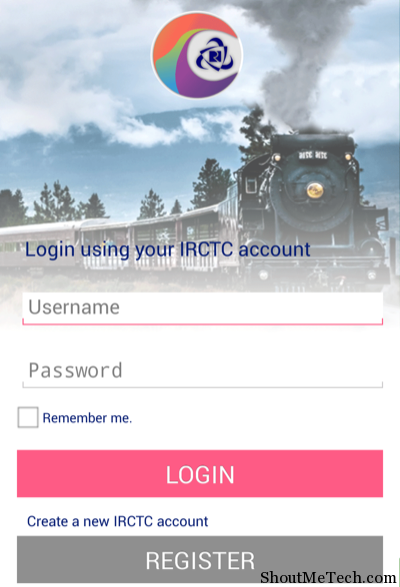 I added the From Station- To station field and selected the date (Calendar view.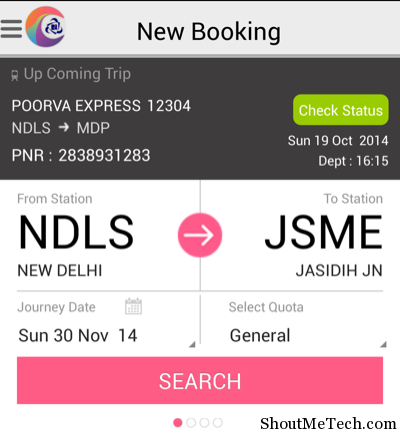 It showed me all trains running on the selected date and clicking on the train name showed me the seat availability.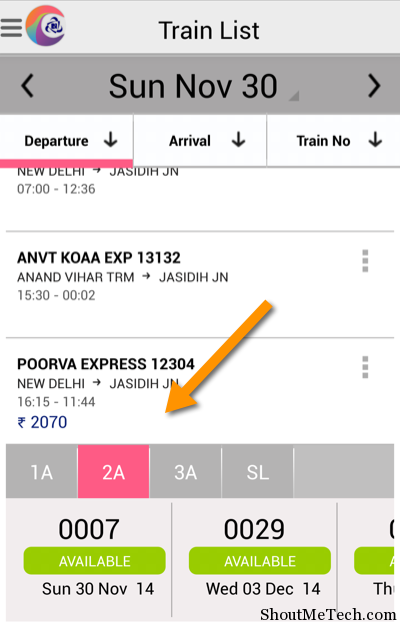 The whole process was very smooth and in the next step you would require to add the traveller name and for trains like Rajdhani, you also need to select your food preference. Within minutes you will be on the payment page and like official site, you have different payment options.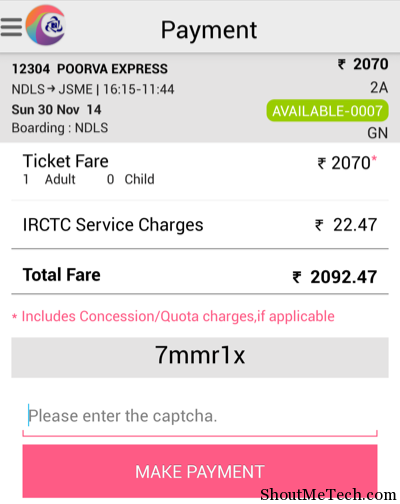 In my case I tried using my ICICI credit card to make payment and it failed twice giving me some error related to cookies, and finally I used my net-banking account to make the payment.  IRCTC E-wallet feature is currently missing from the app, and hopefully they will add it in coming days.
If I ignore the time taken due to error which I got due to payment via credit-card, it hardly took me 4 minutes to plan and book my train ticket. For frequent traveller of Indian railways,  IRCTC connect android app is a must have app. It will not only help you to check the PNR status of your tickets with one click, you can always cancel and make a new train booking from the app itself.
There are few things which this app needs to improvement such as:
App login page will not automatically log you in. You need to enter your password every-time.
The payment process needs a refinement, as along with me and many others are experiencing issues while making the payment.
Overall, with IRCIC connect app, Indian railways have done a great job and it will make the life of frequent travellers like me and you easier. More over, with Android app I hope the official website should work smoother, as the number of concurrent users will be low.
I haven't tried booking the ticket at the peak-hour (Tatkal booking) yet, but I will definitely try it soon and update the post about my experience. Now it's time you can uninstall all those 3rd party IRCTC unofficial apps which you are using to check the ticket availability and PNR status, and install the app right away. Here is the official download link for IRCTC connect app.
If you have used the IRCTC connect Android app on your phone, do share your experience and review of the app in the comment form below.